Resident musicians at IIT Bombay
Among the 800 or so students who joined the Indian Institute of Technology Bombay (IIT-B) in 2014, five of them got together to create a musical band called BlueMoss. While they solve chemical equations during the day, they turn into musicians at night.
At present, BlueMoss is a six-member band – Nirbhay Patil, Guitar, is doing his Bachelor of Technology (BTech) in Engineering Physics, Imaad Ansari, Bass, is pursuing a Bachelor in Science in Chemistry, Shreya Tiwari, Vocalist, is pursuing BTech in Mettalurgical Engineering and Materials Science, Ayush Agarwal, Drums, Rishi Vanukuru, Keyboard, are both pursuing BTech in Civil Engineering, while Vineet Srivastava, Vocalist, is pursuing a Bachelor in Design. Except for Vineet who is in first year, and joined the band in 2016, others met in 2014, and are currently in the third year.
The members were not in the same band when they started their musical journey at IIT-B . But eventually music struck a chord between them, and the inherit enthusiasm to play music brought together BlueMoss. This six-member band often finds time after lectures, and on weekends to practice.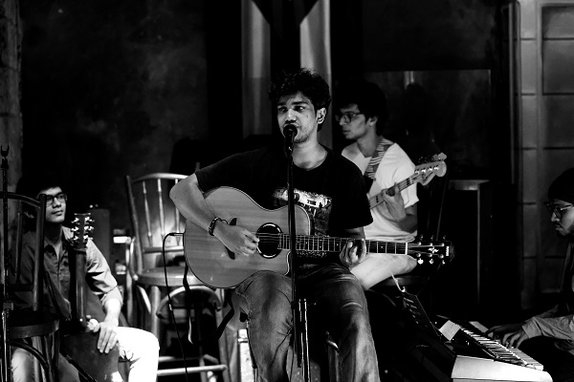 "After a few jam sessions with the music society members at IIT-B, we knew we had found the right people, and BlueMoss started composing music," said, Ansari.
On talking about the idea behind the band name BlueMoss, Patil said, "While walking down a lane in the institute, we saw a rock with purplish-bluish moss on it, and that was our eureka moment, BlueMoss." The band loves playing Blues-Rock, their playlist includes songs like 'Hallelujah', 'Sweet Child of Mine', 'Karma Police', 'Summertime Sadness', 'I'll follow you into the dark', and more.
The bands' favourite musicians include international legends like Guns N Roses, Eric Clapton, Pink Floyd, Muse, and the Indian Blues-Rock band, Soulmate.
BlueMoss occasionally performs for public which includes the IIT-B community as well as outsiders. Also, their performances are restricted to the semester-end season. The six of them don't get enough time during the semester, as they have different schedules, lectures, assignments, practicals etc. Tiwari, who is also the Music Secretary at IIT-B, said, "Our gigs are limited to the semester-end season. It gets difficult for us to take out time during the semester. We do manage time for practice sessions, and then during those days, we jam till midnight."
IIT-B hostels have a separate music room for students, but not all of them are properly stocked with musical instruments. There are about two to three bands at IIT-B, but not all of them are as active as BlueMoss. So, the six of them manage to get equipment from various hostel music rooms whenever they practice.
The biggest passion factor for any band is new musical instruments and even this band craves an instrument or two.
Tiwari, expressed, "We would love to own a Cajon Drum, and an Acoustic Bass, to expand ourselves acoustically." They were the top performers at IIT-B Battle of Bands in 2015, however, next year, when five members will graduate, the band will part ways. Patil added, "Though we enjoy playing music together, different career paths mean we will not be able to get together to play. However, we still love music and will continue to develop as musicians no matter what we do."