Protests at yet another NIT. This time, at Puducherry
First, it was the National Institute of Technology (NIT), Srinagar, that witnessed students' unrest for more than three weeks. The dust had barely settled there that another NIT, this time in Puducherry, is in the eye of a storm. The angry protests by Institute's students have rocked the campus for a couple of days. The students of NIT Puducherry, which was formed in 2007, are unhappy over the inadequate infrastructure facilities at the tech institute.  
The institute's building is yet to be constructed and in its absence, the campus is running from another college building much to students' displeasure. The building was promised to the students way back in 2007 by MHRD. The students have been attending their classes at the Arignar Anna Govt. Arts and Science College. They have alleged that the infrastructure like the lab equipment are outdated, inaccurate and abysmal.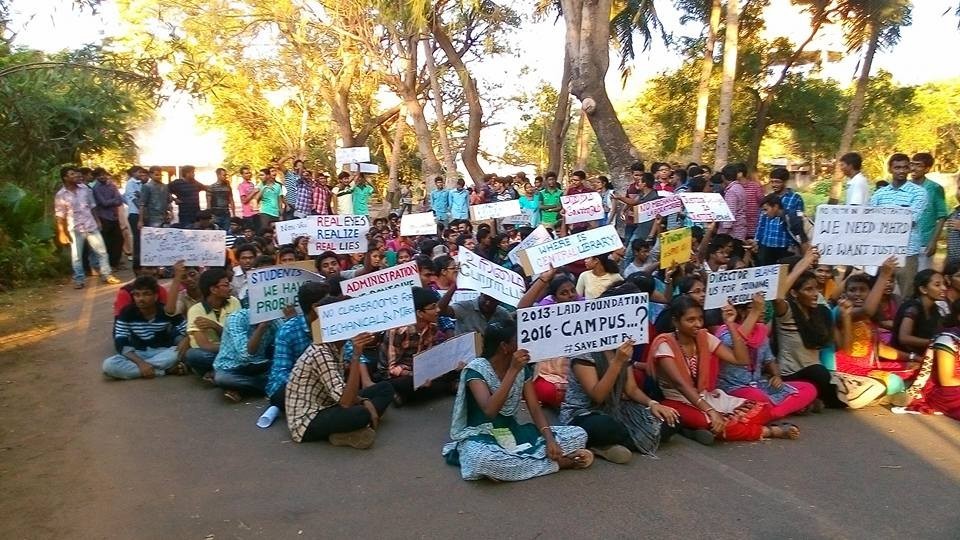 The students have been on an indefinite strike since April 20, 2016. They have alleged that the administration has been ignoring their demands and calling it trivial. The students have also demanded that the college should allow an elected student's body to represent their case. 
The MHRD had sanctioned 31 NITs in 2007. Many of these institutes are grappling with administration and infrastructure related issues. Many NITs are still functioning out of a transit campus. 
Isn't it high time that MHRD shifts its focus to the quality of education imparted at the tech institutes