Mock United Nations at NIT-J becomes a big hit
"Everyone has talent. What's rare is the courage to follow it to the dark places where it leads" is a famous quote by American novelist and poet Erica Jong.
Perhaps it also sums up the spirit of Aaditya Kapoor, a third-year student of Instrumentation and Control Engineering, at the National Institute of Technology, Jalandhar, and his friends.
Aaditya and his friends recently formed a new society called the Constructive Debating Cell (CDC). This body organised the Model United Nations (MUN) renamed as Mock United Nations in the college. It is a simulation of different UN organs by school or university students where they assume the role of representatives of the various countries. The society provides a platform to the young debaters and MUNers to hone their skills by giving them real-time exposure.
But organizing an MUN wasn't an easy task for him. The proposal for conducting MUN had met stiff opposition from all quarters. But Aaditya and his friends braved all the odds and managed to organise the La Conferencia 2016.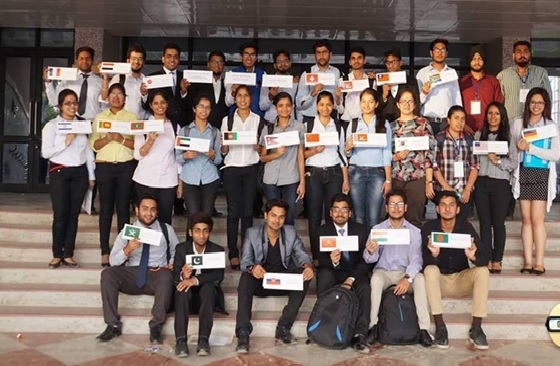 Participants at the event
 After the event had got over April 14, 2016, a message was posted on the FB page that read as "At the end of it all, we kept our word by making the experience of all 34 delegates and members of the international press a fruitful and memorable one. We believe that we have justified our claims of La Conferencia'16 being the biggest and best oratory event ever witnessed by NITJ. We shall not rest until we achieve our goal of establishing a strong culture within the Institute for constructive debating. We aim to instil a sense of professionalism among the students of NITJ. We challenge you to keep your expectations as high as you can, and promise thee to take our events even higher! The onus of establishing a debating culture in the institute is on us!" 
About renaming MUN, Aaditya said, "There are certain protocols to be followed in a 'Real MUN', and as we were organizing such an event in our college for the first time, we decided to rename it as Mock United Nations so that we need not follow all the protocols." He added, "CDC will organize two more MUNs in the next semester and after that we'll name it as the Model United Nations." The event was well received and from next time on, students from other institutions will also participate.
This article is part of PaGaLGuY's innovative internship certification programme
for engineering students. Currently, two such programmes are on – one is an Internship
in Creative Writing, and the other is a Certification in Digital Media. If you
are interested in partaking and bagging a certificate, besides learning the
nuances of effective writing, write to us at [email protected]