MHRD tweets confirming no spot round for NITs; distressed students still petitioning in court
The Union HRD Ministry's tweet on September 20, confirmed that no spot round would be conducted this year to fill up the 1500 vacant seats in NITs. Since August, many students have petitioned in different courts for CSAB (Central Seat Allocation Board) to conduct a spot round, saving the future of those 1500 students who could have been allotted those vacant seats. However, according to a tweet by the Ministry of Human Resource Department, which was retweeted by Prakash Javadekar, the latter was only considering a spot round to sympathise with NITs. (See image below)
As per the Supreme Court directive, all admissions must be completed before August 15 (See image below). Hence, there is no possibility of conducting a spot round now. Although, the final round of JoSAA allocation ended on July 20, and the official website released vacant seat statistics thereafter. Despite, reporting about 1500 vacant seats in NITs, no spot round was conducted to fill those seats.
Further, the Ministry has also promised to extend the allocation process in 2017 until all seats are filled. (See image above) However, students are still petitioning in Allahabad High Court and in the Supreme Court to run a spot round this year. Ashish Kumar, a 2016 JEE student from Uttar Pradesh, had filed a case in Allahabad High Court dated 24/08/2016, with a copy to the Delhi High Court. Prior to this, he had also filed an RTI under the RTI Act-2005, dated 11/08/2016, demanding information about monetary liability of vacant seats. Below is an image of the RTI application, and the reply he received from NIT Patna (Bihar).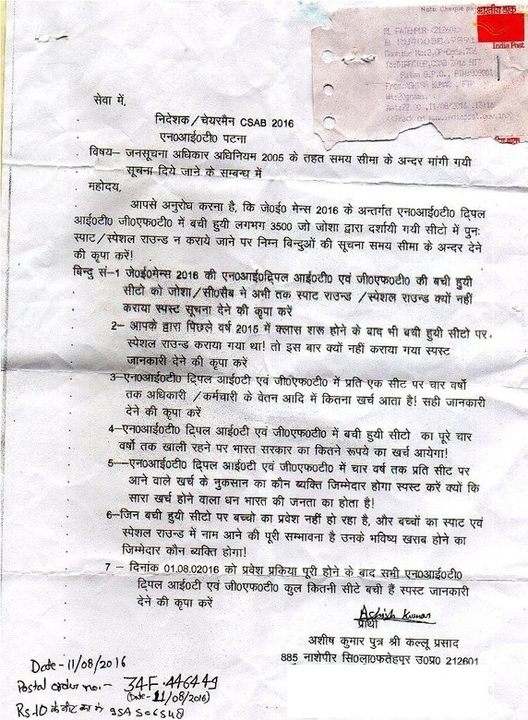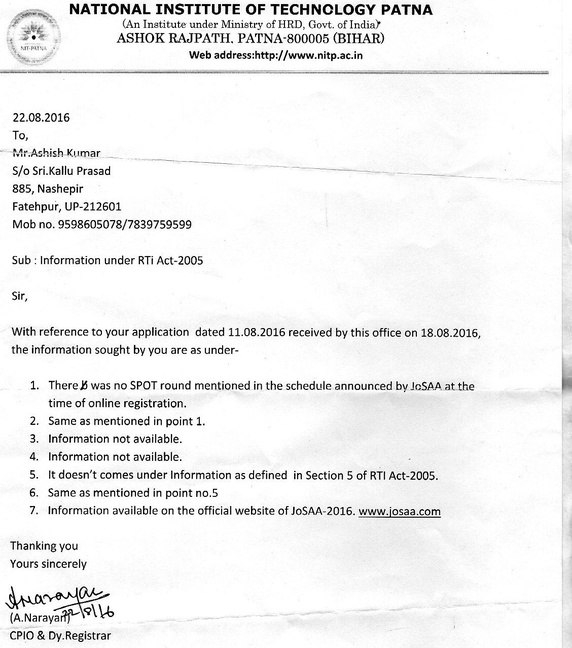 "I wasn't allotted a seat in any institute during the JoSAA (Joint Seat Allocation Authority) allocation process this year, and was hoping to get admission in one of the NITs through the spot round. The Allahabad High Court has given a date of October 17 for hearing of the case," said Ashish. 
Like Ashish, another student, K.C Kishore Kumar has also filed a petition in Delhi Court to fill the vacant seats in NITs. Prudviraj Maspelly, a supporter of Kishor Kumar's petition, says, "I come from a poor family and cannot afford to lose an academic year. If there is a spot round, I am certain I will get admission in one of the NITs." Distressed students are still basing their hopes on a favourable decision from the HC, while the Ministry of HRD is certain of not conducting any spot round this year.