Maha CM Devendra Fadnavis announces interest waiver for government medical institute students
The Chief Minister of Maharashtra, Devendra Fadnavis on Thursday announced in a press meet that the government will waive the loan interest of medical students with Rs. 6 lakh annual family income limit. He further stated that till now there were reimbursements made in fees for private college students, but now the students studying in government colleges will also receive some form of reimbursement.
Candidates studying in medical colleges in the state with annual family income of Rs. 2.5 lakh will be given free education. Those students, who have an annual family income of 2.5 lakhs to Rs. 6 lakhs, will be eligible for complete loan interest waiver from the government. Apart from allowing the benefit to medical students, the Maharashtra government also increased the annual family income cap to qualify for Economically Backward Category (EBC) in the state from Rs. 1 lakh to Rs. 2.5 lakh. Fadnavis on October 13, tweeted about the decision taken by the government, which mentions medical students from economically weaker sections will get a waiver of interest for the loan amount taken for their studies. 
One user Sachin Patil raised an important issue by replying to Fadnavis' tweet stating these steps need review mechanism to become successful.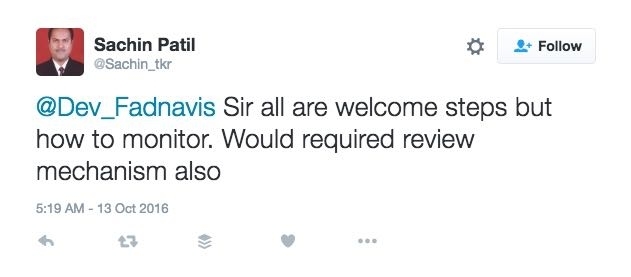 Replying to the CM's tweet, Dr. Sagar Shah from Mumbai suggested that it is important to remove reservation from medical education as many talented students are going abroad. The time of making this announcement is quite crucial as the Maratha community in the state is running a campaign seeking reservation in jobs and education. The Maharashtra government also provided 85% domicile medical and dental seats for the private medical/dental college admission for this academic year. The High Court order passed on September 17 had clearly stated that it will not interfere with the state domicile policies and allowed state medical aspirants to take admission in private medical colleges under 85% domicile quota.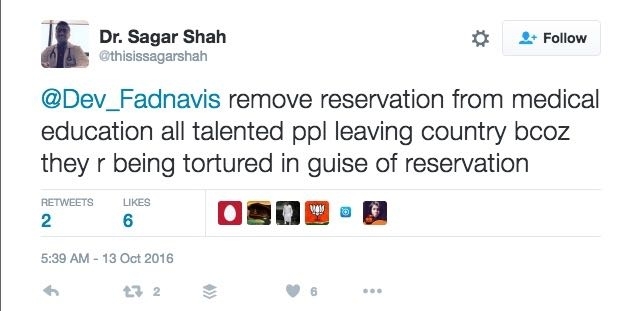 Suggestions for increasing the number of medical seats also came from the twitter users in response to his tweet. Presently, there are 3,100 MBBS seats in government medical colleges while 4,020 seats are offered through private medical colleges across the state (according to MCI website data).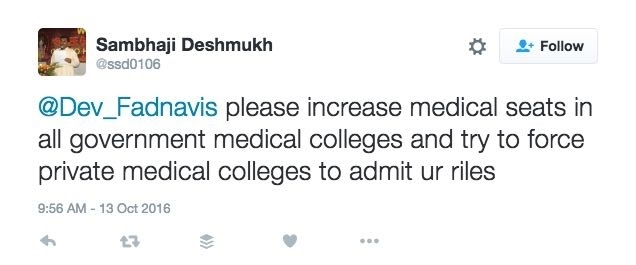 The Education Minister of the state Vinod Tawde tweeted that the scheme will help students with economic difficulties to achieve their goals and continue to prosper in their academic journey.