​
Located in the heart of the commercial capital of India stands the tall and magnificent building of NMIMS, ranked one of the top B-schools of the country, and not without reason. Located in a city like Mumbai, the college, not just by the virtue of it's location, but also it's strong reputation, provides a plethora of opportunities to the students to interact with and visit multiple top-level executives from renowned corporates, stalwarts who are leaders in their fields.
Having one of the most unique orientation programs across all B-schools in India, NMIMS gives a warm and welcoming feeling to the new batch. During the first week of the program, students are given the opportunity to interact with one another and sow the seeds of bonds that will last through the MBA program and beyond.
With the case study approach to the other teaching pedagogy followed here, there is not a single dull moment in class. Instead, lectures are more like discussions, with students providing different viewpoints and insights to the problems at hand. With such varying perspectives coming from within the class, the process of learning becomes less mundane or straightforward, and instead becomes more about learning from others' experiences. Students at NMIMS come from all over the country and from different backgrounds, thus creating a large repository of knowledge and information which is shared in the classroom, making the sessions not just more interactive but a whole lot more fun.
 "All work and no play makes Jack a dull boy", they say. At NMIMS you will find no dull people. The college is always bustling with activities organized by the various cells and committees, students are engaged through day and night. Ice-breaking cultural events for first years, attended by first-year and second-year students alike, are a great first step to what MBA students consider the most important part of any MBA program – Networking. Additionally, multiple projects within NMIMS and offered by corporates help students in applying classroom knowledge real time. NMIMS lays special emphasis on giving students maximum exposure to the corporate world. A step in this direction is a dedicated student committee that brings MBA students the opportunity to work on short-term live projects with companies and gain a better understanding of the industry. Various workshops ranging from generic topics like Excel to specialized domain focused matters are organized regularly by the various cells in college in order to give the students the opportunity to constantly keep themselves up to date with the latest trends in the industry.
The by-products of the engaging academics and live projects are long discussions in the modern, well-equipped and best-in-class library. It is a hot spot for all students to sit together, compare notes, share thoughts, work on case studies and much more. Our famous Y. K. Bhushan library doesn't just provide books for academic reference, but also an e-library with some of the best databases available for secondary research, including Euromonitor, ISI Emerging Markets, Capitaline and more. The library also houses a dedicated Finance Laboratory, one of the very few in the country, equipped with multiple Bloomberg terminals which help students greatly in their research and analysis.
All in all, Life at NMIMS is a different experience altogether, focusing not just on the academic aspect of MBA, but rather on the holistic development of the students which equips them to be not just great managers but to become leaders and innovators in their respective fields.
​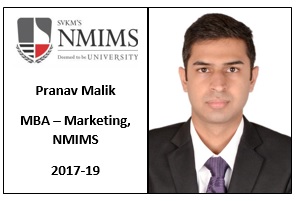 ​
​