In a historic feat, Kalpit Veerwal from Udaipur, Rajasthan has scored 360 out of 360 in JEE Main 2017 and secured the All India Rank (AIR) 1. Son of Pushkar Lal Veerwal, who is a nursing staff in a government hospital in Udaipur and Pushpa Veerwal, a school teacher in Udaipur, Kalpit created history by scoring full marks in JEE Main 2017.
Speaking to PaGaLGuY over the phone, Kalpit said that although he is extremely excited about this feat, he has his eyes trained on a good rank in JEE Advanced now. "If I score well in the JEE Advanced examination, I would like to join IIT Bombay. All the top students prefer IIT Bombay and the competition level is exceedingly good, giving you motivation for further studies," said Kalpit.
Even before the official result of JEE Main 2017 was uploaded on the website, CBSE Chairman R K Chaturvedi called up Kalpit to give the news. "He congratulated me over the phone in the morning, and although I felt happy, I was out of words when he broke the news to me," said an excited Kalpit. 
Although Kalpit was confident of getting a good score after his JEE Main was over, he did not imagine getting full marks. "It is really nice to see your parents being so happy about your results. Although they trusted me that I would have a good score, something like this was unexpected," said Kalpit.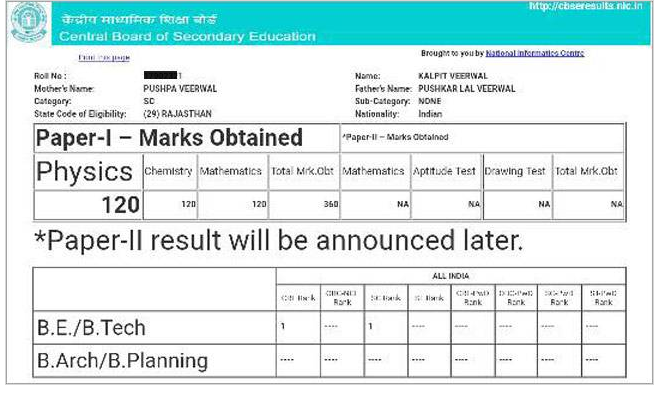 "We were confident he will get a high score in the examination as he is quite a talented child. He has performed really well in his school till date as well," informed  Kalpit's father Pushkar.  
A student of MDS Public School, Udaipur, Kalpit took coaching from Resonance Institute in Udaipur, solved test papers, and sat for mock tests before JEE Main 2017. " I used to regularly attend my school and spent 4-5 hours in the coaching class I attended for the last two years. I used to come back home and complete my homework on a daily basis. The weekends and holidays gave me extra hours to study," said Kalpit.
Cricket and music helped as stress buster for Kalpit during his preparation. He used to play cricket whenever he got time from his studies, which kept both his body and mind, healthy and fresh.
"Revision, maintaining speed and accuracy, and keeping focus are the keys for success in JEE Main," said Kalpit when asked about his mantra for success.   
Former Chief Minister of Rajasthan, Ashok Ghelot congratulated Kalpit by tweeting today. 

On asking whether he is feeling the pressure to perform well in JEE Advanced after his historic feat, Kalpit seemed confident. "I am not sure about the rank I would get in JEE Advanced, but I would try and give my best," concluded Kalpit.