Jallikattu gets the go-ahead, to be conducted tomorrow after three years
In a press release by the Director, Information and Public Relations, Chennai, the Chief Minister of Tamil Nadu, Thiru O Panneerselvam, stated that the Governor has approved the Jallikattu Ordinance.
Jallikattu will be conducted tomorrow, January 22, 2017, after three long years, in Madurai, which will be attended by the CM Thiru O Panneerselvam as well. In a DO (Demi-Official) letter released by the Information and Public Relations, Chennai, the Chief Minister, thanked the Prime Minister Narendra Modi, and the people who protested against the ban.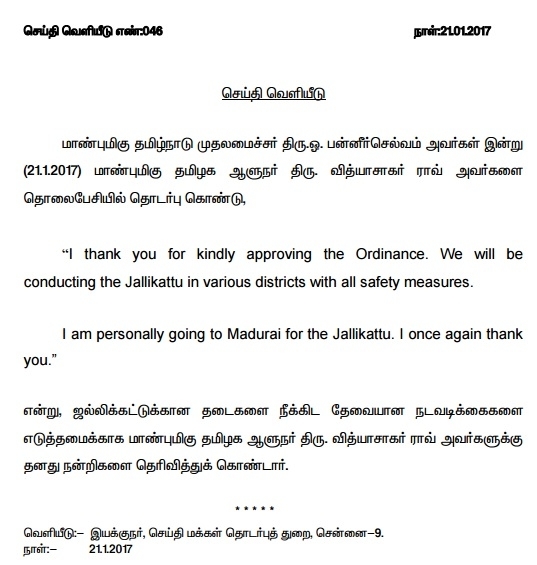 The note also stated that the Government of Tamil Nadu has issued an Ordinance after obtaining the necessary prior instructions of the President as envisaged under Article 213 of the Constitution. The Ordinance was promulgated today by the Government of Tamil Nadu and Jallikattu is to be conducted with customary fervour all over the state with all necessary safeguards.
Under Article 213, the Governor has the power to promulgate Ordinances during recess of Legislature.
Following preparation are being taken care of for Jallikattu –
Double-barricade the arena or the way through which the bulls pass through, in order to avoid injuries to the spectators and by-standers who may be permitted to remain within the barricades

Fix up the gallery for the spectators to sit and watch the event and the gallery shall be made up with strong sticks to permit occupation;

Ensure that every bull tamer wears an exclusive dress for the sake of identification with necessary identification card issued by the Collector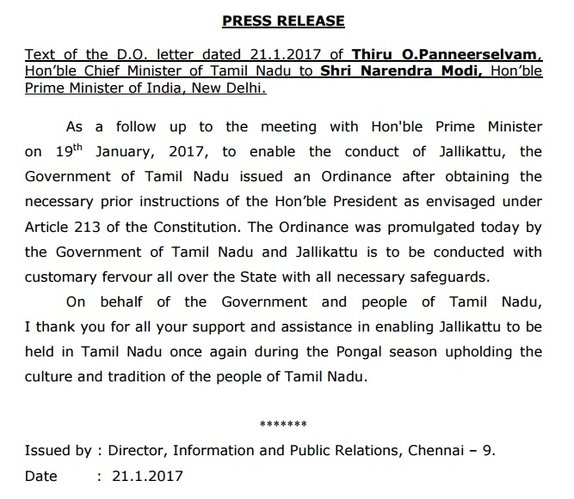 The Collector shall ensure that the bulls are free of any diseases and not intoxicated or administered any substance like nicotine, cocaine with the object of making them more aggressive or ferocious. Arrangments will be made to provide adequate police protection at the places where the event is held and adequate medical facilities including an ambulance at the place where the event is held, to give medical treatment and constitute a medical team for such purpose. They will also arrange for necessary drinking water supply as well as sanitation facilities in the place where the event is to be held.
Jallikattu will be held in Tamil Nadu once again during the Pongal season upholding the culture and tradition of the people of Tamil Nadu.
​
All you need to know about Jallikattu
Caught between prevention of cruelty and protecting tradition and local breeds, students take up the cause of Jallikattu
What is Jallikattu? Why is there a controversy around it?
Jallikattu is banned under the Prevention of Cruelty to Animals Act, 1960
What is the relation between Jallikattu and A2 milk?
​