IIT Roorkee officials cite unavailability of Mukesh Ambani for convocation delay
Nothing can be more exciting for an IITian than being clad in long flowing academic robes, a graduation hat with a degree in hand. After four years of all the slogging students fervently look forward to the convocation day. But for IIT Roorkee graduates, the excitement and preparation were in vain, after the institute administration postponed the date to the end of by a week. The institute has attributed this decision to the unavailability of the Chief Guest, Mukesh Ambani.
The original date for the convocation was September 24, 2016 which has now been pushed to September 30, 2016. Students however, claim the decision to postpone the convocation dates could also be because of the delay in conducting the Viva exam for Postgraduate and PhD scholars. "We were given the dates almost six months ago via the official portal. A lot of us have made our travel reservations. Cancellations are non-refundable. The administration should take consideration of all these issues. Even after graduating, we have to face these hassles because of the incompetency of the administration," says a student Neha A.
​
To top it all, the institute got the day wrong on their official website which further fuelled the student's anger. "The website said September 30, 2016, Saturday. This aggravated our confusion because no one was sure if the convocation was to be held on September 30 which is a Friday, or the next day," added Kawaljit Singh another student.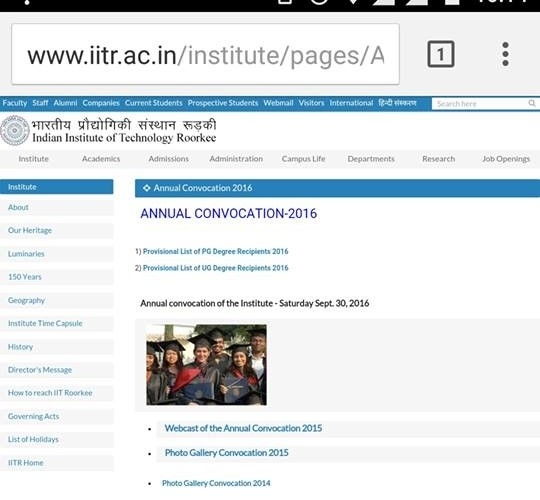 ​
IIT Roorkee officials have been unavailable for a comment. Going by the notice circulated to the students and the storm of comments on social media, this convocation will surely be an interesting one for most of IITR graduates.
​