GATE 2017 Mechanical Engineering exam review| Candidates say paper easy but tricky
The Mechanical Engineering paper of the Graduate Aptitude Test in Engineering (GATE) 2017 was conducted successfully today, February 4, in two sessions by the Indian Institute of Technology (IIT) Roorkee. Candidates who took the second session, scheduled from 2pm to 5pm, said the paper was easy but tricky, and there were no lengthy questions.
A candidate Lokesh Bhavsar, said, "General Aptitude (GA) was too easy in session 2, even the technical two marks questions, but a few one mark questions were confusing. Overall the paper was very easy, still I could attempt only 50 out of 65 questions."
Another candidate, Aashish Aggarwal, said, "The Mechanical Engineering paper was tricky, but there no lengthy questions. I gave my best, but the result depends more on my accuracy level than knowledge level."
After carefully analysis by Srivastava, who took the afternoon session for ME, he concluded, "It was a lengthy but easy paper, except for three or four questions based on my opinion. This year's topper may get more than 90 easily."
According to a poll conducted on PaGaLGuY.com, many candidates said that the paper went good.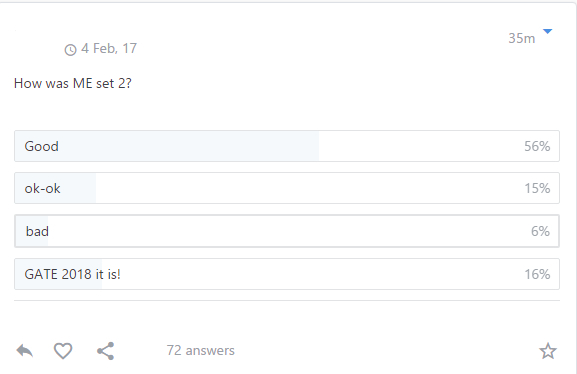 AP Shah said it was similar like set three Mechanical Engineering paper of GATE 2015. However, not all candidates found the paper easy. Ketan V, and Shibananda Mallik, said, "The General Ability section was difficult, and the paper was definitely tougher than previous years."
Though the exam is over for Mechanical Engineering candidates, they now anxiously await the response sheets. The sheets are expected to be available on the official portal of GATE 2017 by February 10.