Follow these steps to file a grievance regarding SSC CGL Tier 2 2016
It has been more than 24 hours that the Staff Selection Commission (SSC) released a notification regarding grievance redressal for the Combined Graduate Level (CGL) Tier 2 2016 exam. The notification, as seen below, has invited grievance reports from candidates before December 9, 2016, for genuine redressal. The chairman has assured candidates that a concrete procedure is in progress to ensure that there was no compromise in the merit-based selection to the exam.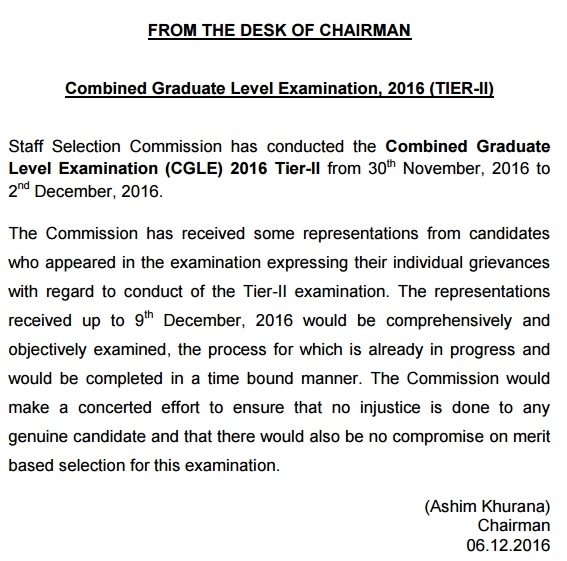 As simple and assuring as this may seem, it is rather tricky to file a grievance, as the notification does not mention any contact or email address where the grievances can be filed. Candidates who are confused and unaware about the redressal procedure, are currently filing their complaints with the Public Grievance Portal. However, when PaGaLGuY spoke to Gajendra Singh Thakur, Regional Director, SSC, Northern Region, he said, "All complaints regarding the SSC CGL Tier 2 2016 exam have to be sent to the Regional Directors of the candidates' respective SSC regions. They can find the email address from their respective regional SSC website." According to Thakur, filing complaints to the Public Grievance Portal is in vain, as a single grievance platform cannot bifurcate individual complaints as per their SSC regions.
Grievances to the Regional Directors should be sent in the following format.
Name:

Roll No:

Center Name with address:

Problem:
Email address for Northern region: [email protected]
The SSC CGLTier 2 2016 was conducted by the Commission in two Sessions every day between November 30 and December 2, 2016, at 356 venues in 57 centers (cities) across the country. Cases of malpractice were reported to the commission because of which aspirants are now demanding a re-exam.
​