First look at IIM Indore's new classroom in Mumbai
The classroom in ICSI building where IIMI will conduct its PGP course
The Institute of Company Secretaries of India, building in CBD, Belapur (Navi Mumbai) which is to host the Indian Institute of Management Indore's PGP course is not an established address. It took a couple of wrong turns and at least five stops asking for directions (after entering CBD) to actually get there. Quite a change, one would say, from Indore, where even a small kirana shop keeper can give you exact directions to the IIMI campus.
But the Navi Mumbai plight has little to do with IIMI. CBD, meaning Central Business District itself has been a failure of sorts. Meant to decongest Mumbai and take a load of its corporate buzz, it did nothing of that sort and today accommodates only some important government offices, plenty of call centres and a few corporates.
The ICSI building is also a far cry from where one would expect an IIM to set up shop. It is a pretty two-storied building, nestled among a series of similar looking structures, flanking a shrubbery patch and a nullah. The building itself emanates a very informal aura and a friendly watchman is happy to let anyone who says " IIM Indore" in.
The ICSI building in CBD Belapur
The lobby is bright and reminds one of a well-maintained 3-star hotel with the reception staff smiling gleefully on seeing visitors. When asked about IIMIs new course, one of the receptionists said that he had had heard of the development but was not given any specific instructions. "No calls have come inquiring about the course so far," he said. About the classroom, he said there was going to be just one classroom but that is also yet to be done up. "Work will start soon", he added. PaGaLGuY had visited the ICSI building last week.
The proposed new classroom is on the second floor and at the moment serves as a dining hall for the ICSI activities. When your correspondent landed there, a luncheon meeting had possibly just concluded and chairs and tables were neatly stacked. Yes, it was expansive enough to house 75 students and airy too with large windows but the scholarly touch was missing. No descending floor design or spherical walls. When asked, how this class would be made ready for the PGP course, the official said it would be built according to another room in the building which also serves as a classroom.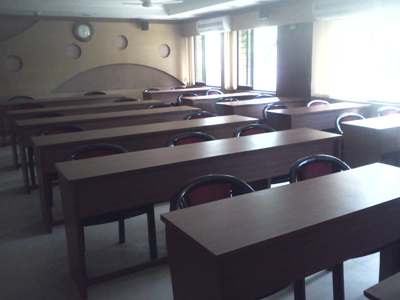 Above is the picture of an already-existing classroom
The ICSI official said that efforts are being put in to make the classroom look exactly like those in IIMI. Whether that will happen, only time will tell, though not much time, since classes will start in September. The above is just a physical look at IIMI's Mumbai plans. At the end of day, it does not really matter whether the windows in the classroom are huge and let the sun stream in or whether the walls are circular in design or not, all depends on whether the instruction will be of IIM standard.
This time, no one from IIMI wanted to speak on the matter but the last time, an official said that the whole idea is to make the best use of the IIMI mode of teaching and the physical proximity to India's financial capital to give the course a super edge. And as for it being in CBD Belapur, hopefully IIMI presence will make the suburb a place to reckon with. The course has not even started and it would be wrong to form any conclusions based on the location or infrastructure. To set up shop in Mumbai is not easy. Not only the hefty real estate prices but also the general lack of space makes far flung suburbs (like CBD Belapur) the only options available.
Yet, one can't help but get one's mind off the Harvard Business School Classroom located in the Taj hotel in prime property like Bandra. The clasroom is an exact replica of the actual HBS classroom and a treat to the eye.