Engg students protest against JNTU-H in Hyderabad, 16 students taken into custody
​
Students march in protest against Jawaharlal Nehru Technological University
​
Hundreds of engineering students launched a war against Jawaharlal Nehru Technological University, Hyderabad as they protested against university on Sunday evening for detaining them in first year citing 'shortage of credits'. Scores were injured as the police resorted to lathi-charge to disperse the protesting students from the site.
​
More than 300 first year engineering students raised slogans against the university for its failure to promote them to second year. As reported by Pagalguy in the month of March this year, over 5,000 engineering students in 174 disaffiliated colleges of 2014-15, were detained by the JNTU-H over shortage of credits.
​
On Monday, students went to meet the newly appointed vice-chancellor Venugopal Reddy to raise their concerns. However, the students later resorted to protesting in front of the university gate as the administration failed to hear their plea in relaxing the mandatory credit clearance from 40 to 35. "Nearly 50 students were injured in the lathi-charge. Many students are depressed as due to the detention, they would no longer be eligible for the fee reimbursement scheme by the Telangana government," said Venkat Balmoori, state president of National Students Union of India.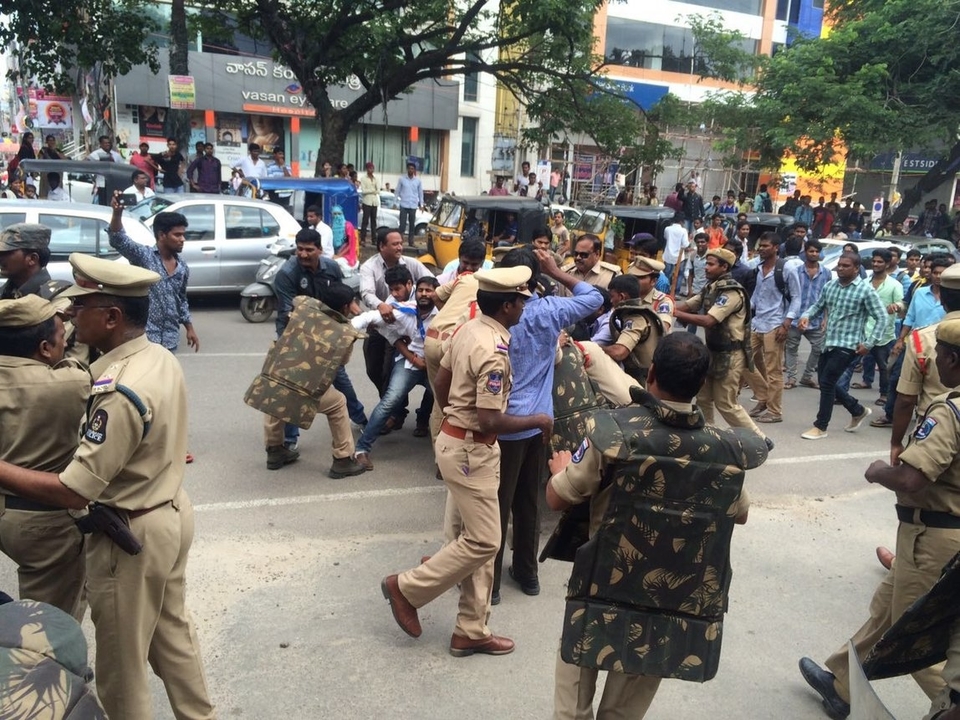 ​
The police took 16 student leaders into preventive custody as the situation turned ugly in front of the university main gate. "The students started blocking the main road causing chaos. We had to rain baton in order to disburse the protesting students," said Ch Kushalkar, inspector of KPHB police station.
​
Several students' complaint of loopholes in the evaluation process by the JNTU-H which has led to their detention in the first year. "Neither does the university share the xerox copy of our answer sheets, nor does it consider our plea to be promoted in the next year. Thousands like me are left distressed over our academics as loss of one year may affect our employment post BTech," said Ashwin, student of St Peters Engineering College.
​
The university was on a spree of cracking a whip on erring engineering colleges during 2014-15. While 220 colleges retained their affiliations, the university withheld affiliation of over 174 colleges. Students admitted in these colleges prior to the affiliation row are now clueless as the colleges are dysfunctional with very little faculty members holding regular classes. While the government had assured to shift students of these disaffiliated colleges to affiliated ones, nothing so far has been done in this regard.