Common Admission Test (CAT) 2016 for admission to Indian Institutes of Management (IIMs) were declared today, January 9, 2017. The results created much anxiety among candidates as the score cards were not visible till noon. The number of candidates who have scored 100 percentile is 20, according to different media reports which quoted CAT Convenor Prof. Bandi of IIM Bangalore.
PaGaLGuY spoke to Mukesh Goyal who is currently working in Gurgaon for the last six months. Mukesh, graduated in  Electronic engineering from PEC, Chandigarh. 2016 was Mukesh's second attempt at CAT. In 2015, Mukesh scored 99.72 percentile. Mukesh said, "I was sure about getting a good score this time. But getting 100 percentile is a surprise."
 Mukesh will be applying at IIM Ahmedabad and Calcutta. His score in CAT 2016 are as follows: VA=82.50, DILR=100, QA=100.
Mukesh added, "Verbal ability and Data Interpretation is something I did work on. Despite having worked hard on VA, I found it  a bit difficult. But scoring 100 percentile has made all  that bitterness go away."
PaGaLGuY wishes Mukesh All the Best for his admission to IIMs.
Here is Mukesh's score card: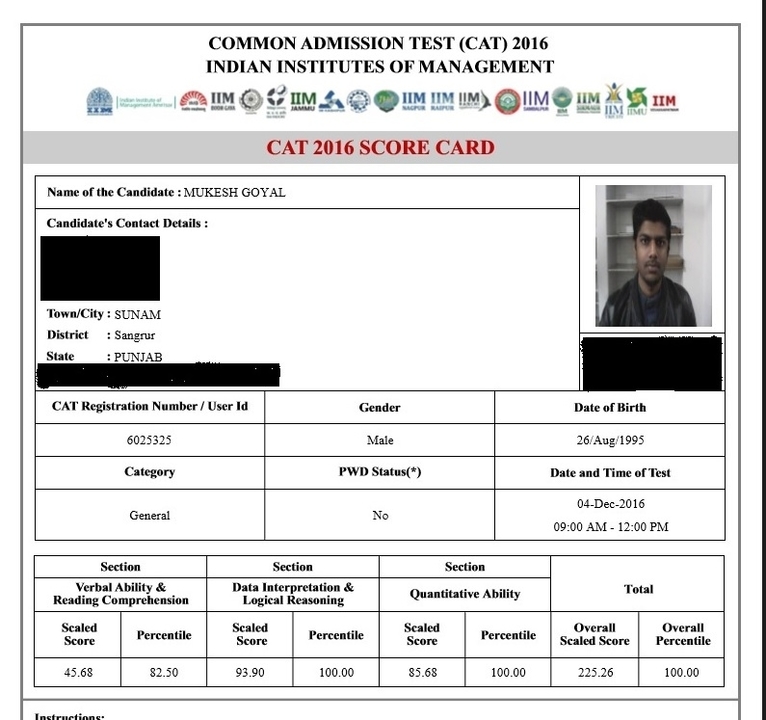 With inputs from Priyank Pamkar.