An Illumination to Inspire…
'Illu' is short for 'Illumination', a celebration held during Diwali, a competition of light during the festival of light. Students from the various halls at IIT Kharagpur participate in Illu, and compete to win awards for the best designs. So what do they do, really?
Illu started in 1981 and now is part of the tradition and culture at IIT Kharagpur. A competition where students work on and design massive displays of light having the ability to enthral and inspire every viewer. At the same time, these displays are so simple and down to earth that they are created out of the most traditional of lighting equipment: the earthen lamp, or 'diya'.
Each display comprises of these diyas tied to massive bamboo lattices, known as 'chatai', in intricate patterns, which are lit after dark. While this sounds easy, leave it to the students of IIT Kharagpur to bring out the challenges of designing stories and images hundreds of square feet in size. And yet, meet those challenges head on, bulldozing their way through every difficulty that arises.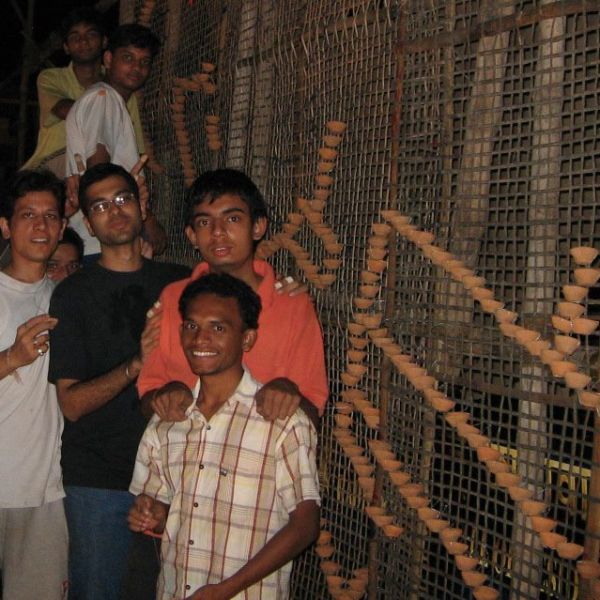 Students work for weeks after classes tying thousands of
diyas to the chatais using wires, designing the structures as they go, and
building the whole maze. On the last day, the chatais are made to stand on end,
to finish the displays – some of which may rise over 20 feet high.
On the day of the competition, they stand on tables piled upon each other to reach the highest point on the chatai, start filling the diyas with oil, and light the wicks. When the order comes, tables are removed and the complete display is visible for all to see.
Once the display is completely lit, the hard work, toil, efforts, love and dedication that the students have put in these lamps and lattices comes alive. The displays illustrate stories that motivate, they transcend emotion, and bring magnificent patterns to life.
The displays of Illu have inspired their own coffee table
book, 'Illuminati: The Engineering Of Illumination', by Devendra Purbiya.
(We covered an IIT Kharagpur student's first experience of
Illu last week, which can be found here: https://www.pagalguy.com/articles/my-very-first-tryst-with-illu-34185955)