Amity Mumbai:: Advantage of University-Industry Linkage for Students
A collaboration between universities and industries is critical for skills development (education and training), the generation, acquisition and adoption of knowledge (Innovation and Technology transfer), and the promotion of entrepreneurship (start-ups and spin-offs). The collaboration between industry and the academic world has always been an important but complex topic.
Due to the rapid evolution of the business environment and the vast transformations through the academic realm, the subject is now hotter than it has been. The main benefits of companies of this cooperation are the access to the latest research results and innovative new methodologies. It is a mutual approach- the companies offer business insights and the students contribute proven methodology and expertise. It is a win-win situation for both the university and industry.
At Amity University, Mumbai, we strongly believe in making our students industry ready. With so much of competition around, it is extremely important that the students are able to align their degree with the industry requirement. It is of utmost importance that the students equip themselves with skill sets that give a value-add to their qualification and hence make them competent in the workplace. At Amity University, Mumbai we are focusing on the Industry-Academia interaction to make our student's skill sets industry relevant. We constantly invite industry stalwarts to our campus for interacting with our students and share their experiences and industry knowledge with them. At the same time, we also organize industrial visits and educational tours, which help in molding the students, giving them a focus, and offer them a sneak peek into high-tech corporate corridors and practical lessons in managerial skills. To make students' industry ready, a 360-degree approach is required. We at Amity University, Mumbai look at it through an inclusive approach where we have made industrial training, internships as part of the curriculum.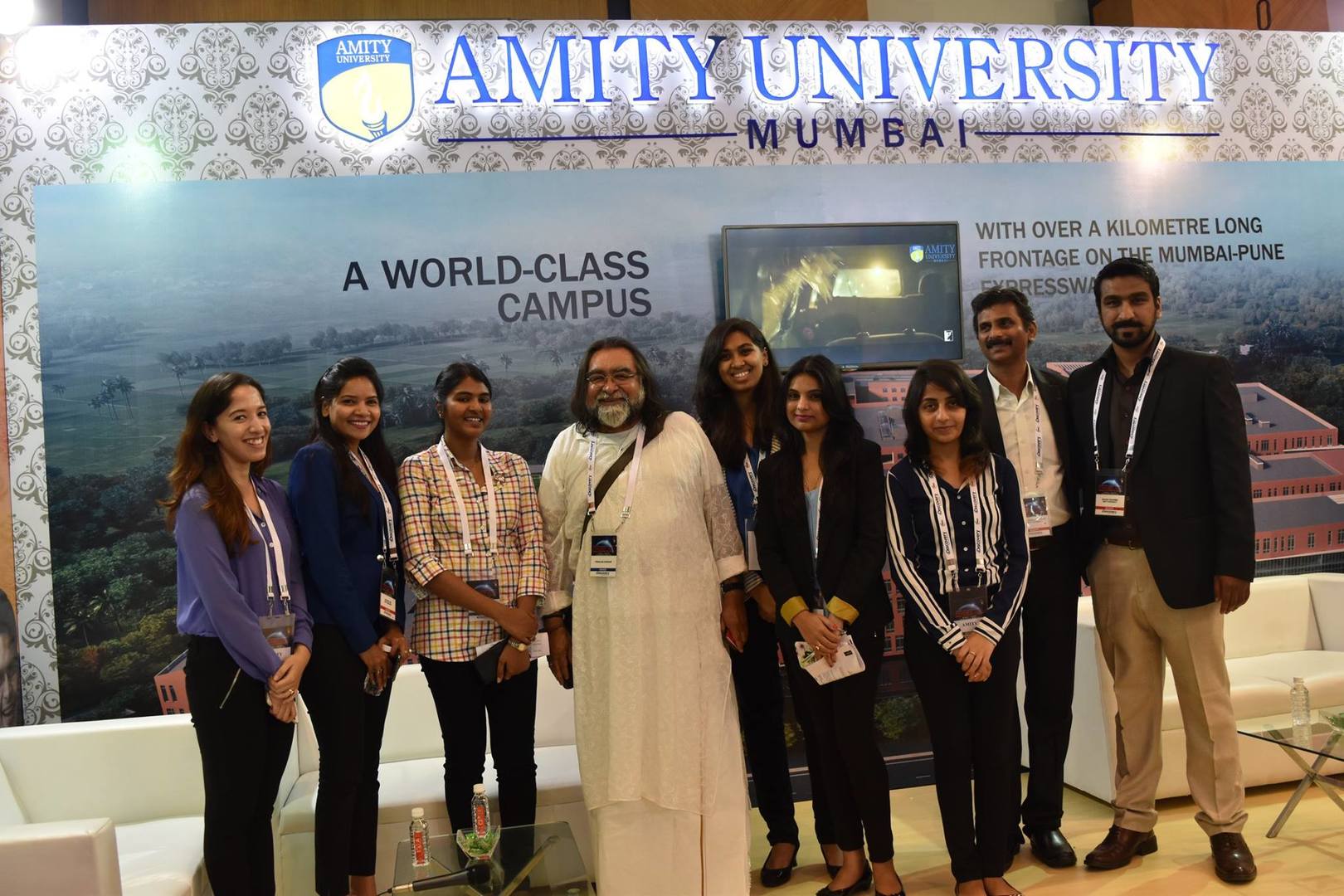 Apart from this we also partner with corporate national events in various domains. We were the partners of FICCI Frames. Frames is a 3 day global convention covering the entire gamut of Media and Entertainment like Films, Broadcast, Digital Entertainment, Animation, Gaming, Visual Effects etc. The event witnesses the who's who of the Media and Entertainment industry and has delegates from India and abroad. The event was spread across 3 days with discussions happening to various topics pertaining to the media industry. 51 students from Amity University, Mumbai participated in the event. The students did a brilliant job of networking with the industry big wigs, getting them to the Amity Lounge and interviewing them. They had prepared industry specific speakers, relevant questions, which impressed the interviewees and they were happy to spend time for our students and share their experiences. Some of the interviews our students took prominent personalities include the likes of Mr. Siddhartha Roy Kapoor, Mr. Uday Shankar, Mr. Prahlad Kakkar, Mr. Ramesh Sippy, Mr. Subhash Ghai, Mr. Ketan Mehta, Mr. Bhaskar Das, and Ms. Meghna Gulzar etc.
Amity students also successfully executed the "Frame Your Idea" concept during the FICCI Frames 2016. It is a platform to connect ideas, story or script owners with the content producers, commissioners and studios. Frame your idea, has in attendance the top studios, broadcasters, producers who had their content teams looking for the next big idea they would want to grab, develop and put it out there for everyone to watch. We have also invited notable people from the film industry like Guneet Monga (CEO- Anurag Kashyap Films and Founder- Sikhya Entertainment) and Mr. Aditya Shastri (Head-B4U World) to our campus where they interacted with our students, shared their experience and journey, and guided aspiring students.
We also participate regularly in events like the IIMUN (Indian International Model United Nations) which is a tool that equips students to grasp the gremlins of the local, national and international ecosystem of which they will be the leaders in their own capacities. A forum receives a participation from schools, managements, academicians, parents and most importantly students from across the globe.
Amity University, Mumbai also participated in events like "The Edutainment Show" for 2 consecutive years. It is a one-stop platform for information, education, entertainment and more importantly media convergence. It had a pool of celebrities, who have accomplished the nuances of media, design and communication industry such as Subhash Ghai, Prahlad Kakkar, Roshan Abbas, Archana Kochhar, Dilip Chenoy and many other experts, who gave students a broadened outlook towards career possibilities in media, communication and design. It also had panel discussions covering a wide range of themes- from Fashion Designing to Product Designing, Filmmaking to Corporate Communication and Brand Communication to Radio Programming.
Apart from collaborating with national level events, we organize regular industry visits for our students and invite corporate honchos to our campus to interact with them. The idea is to make our students ready to face the industry, and equip them with the right mix of text book learning and first hand experience.
To know more about MBA admissions for batch 2016-18, click here.