63rd National Film Awards

Introduction: The National Film Awards is the most prominent film award ceremony in India. Established in 1954, it has been administered, along with the International Film Festival of India and the Indian Panorama, by the Indian government's Directorate of Film festivals since 1973.
The 63rd National Film Awards ceremony honoured the best films of 2015 in the Indian cinema. The awards were announced on 28 March 2016 and the ceremony was held on 3 May 2016.
Golden Lotus Award
Official name: Swarna Kamal
All the winners are awarded with a Golden Lotus award, a certificate and a cash prize.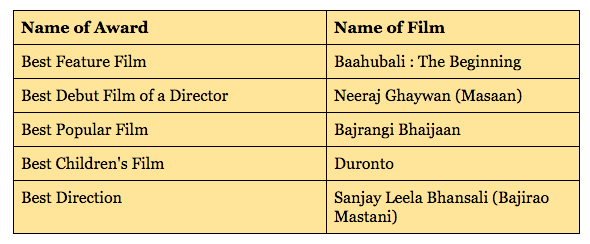 Silver Lotus Awards
Official name: Rajat Kamal
All the winners are awarded with a Silver Lotus award, a certificate and a cash prize.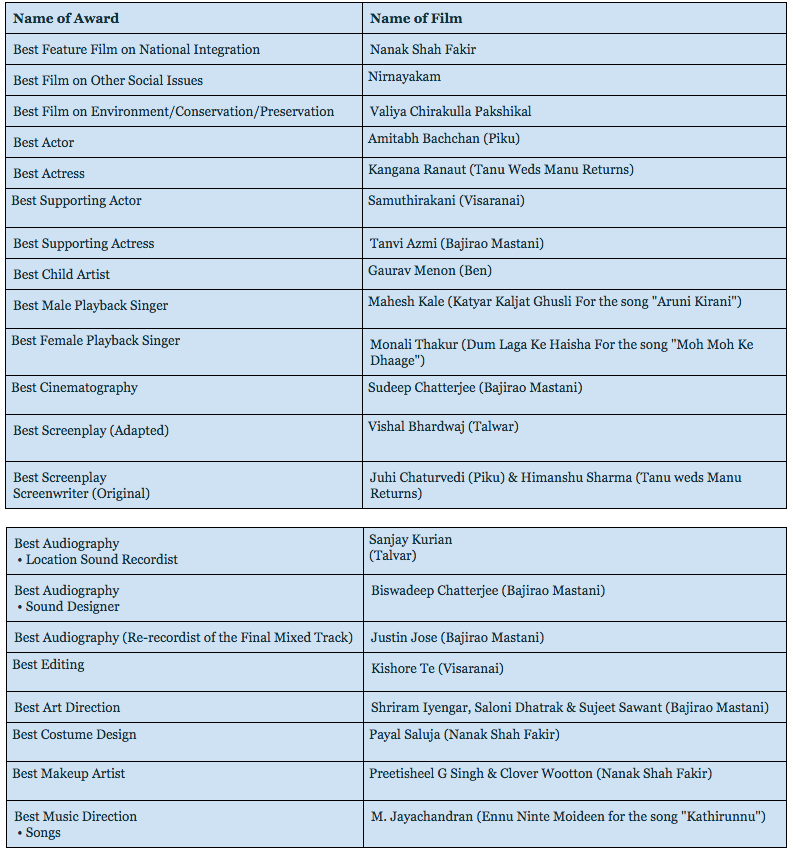 DadaSaheb Phalke Award
Introduced in 1969, the Dadasaheb Phalke Award is the highest award given to recognise the contributions of film personalities towards the development of Indian cinema and for distinguished contributions to the medium, its growth and promotion.
The Dadasaheb Phalke Award was conferred upon Actor Manoj Kumar for his achievements as an actor and a filmmaker throughout his life.
Facts about the National Film awards
Including this year, Amitabh Bachchan has bagged the Best Actor award four times.
Mithun Chakraborty is the only actor to have won the Best Actor award for his debut film (Mrigayaa, 1976).
Shabana Azmi has won the most number (five) of Best Actress awards.
Ilayaraja and A R Rahman have won the most Best Music Direction awards, with four each.