449 students graduate from IIT-H today
The Indian Institute of Technology, Hyderabad (IIT-H) hosted its 5th annual convocation on Saturday, August 6, at its permanent campus where the institute crossed a milestone of awarding 449 degrees out of which nearly 49% were research students.
AS Kiran Kumar, Chairman of Indian Space Research Organisation (ISRO) graced the event as the chief guest and delivered the convocation address. The ceremony was presided over by BVR Mohan Reddy, Chairman, Board of Governors – IIT Hyderabad, and Executive Chairman – Cyient.
​
Among the 449 students who graduated from IIT-H this year, 189 were from BTech, 167 from MTech, 45 from MSc, 42 from PhD, five from MDes and one MPhil scholar. Seven students were awarded dual degrees in BTech and MTech and the ceremony also saw its first batch of Masters in Design (M.Des) and first batch of B.Tech civil engineering graduates. "It is indeed a very special convocation because IIT Hyderabad has crossed the 2,000 student mark; we have a total of 2,046 students currently. Moreover, we are graduating the first batch of B.Tech in civil engineering, the first batch of Master of Design (M.Des.) students, and the fact we are graduating 42 PhDs," said UB Desai, Director of IIT-H.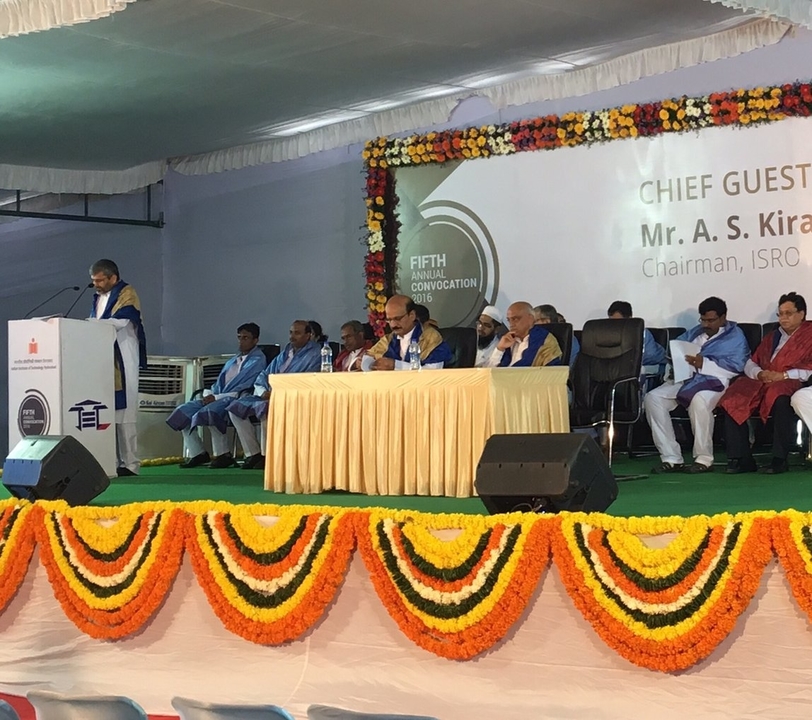 ​
The IIT Hyderabad ranked seventh in the National Institute Rankings Framework (NIRF) rankings this year and is increasingly becoming popular with students as a preferred institute among the newer IITs.
​
The Chairman, Board of Governors, IIT Hyderabad, BVR Mohan Reddy too said, "IIT-Hyderabad is contributing substantially to research with 49% of the 442 students graduating today being post-graduates and PhDs. This is a reflection of emphasis being put on research at IIT Hyderabad. We are also proud to announce that IIT-Hyderabad was able to fill all 240 seats this year, perhaps for the first time after it was established in 2008." The institute also gave away gold and silver medals to students who secured highest overall CGPA and excellence in academics and co-curricular activities.
​
This year's convocation also marked the makeover of the graduation costume, where the conventional black robes and graduating caps made way for a robe designed by Deepak Mathew, Head of Department – Design at IIT Hyderabad. The skills of local Pochampally craftsmen were utilized to weave the design of the costume. Apart from this, the convocation ceremony was also streamed live for those who could not attend the ceremony in person.