Here is a thread to access the links and pages of the shortlisting made by colleges. Please access. iimshillong.in
IIM Shillong


Send an e-mail to know your CAT results. These results are essential for admission to the IIM Shillong MBA School in India.
only two short lists are out so far right? i dont see any other shortlists available now..
Check this out!
Shortlist percentile cut-offs for WAT & PI for IIM Kashipur, IIM Raipur, IIM Ranchi, IIM Tiruchirappalli & IIM Udaipur
when is IIM C and IIM L coming ?
Do institutes send the mail , once they short list ... Or we supposed to check only
IIM L shortlist out.

IIML Post Graduate Programme in Management PGP/PGP-ABM Shortlisted Candidates
when will iim indore results be out?
Whish iim shortlists are out???
any chance for spjimr call at 98.11 percentile and a piss poor profile?? actually any chance of a call from any mba college at all?? i have applied to mdi, spjimr, fms, imt,xim..i also have an iift call..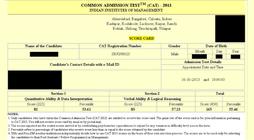 In what seems like a shocking turn of events and something which would force us to rethink our existing educational system, the CAT 2013 Results show that of the 1.74 Lakh candidates who appeared for CAT, 95,000 scored Zero or Negative marks.
can u plz tell d link to check iim lucknow shortlisted students
Where do we check the cut-offs for IITs? The application portal for IITs seems to be working. I want to check the cut-offs and apply to the colleges.
Name : sai
Profile :
10th- 89%
12th- 92.1%
B.Tech- 80%
Fresher.
2012 CAT-91%ile . Pursuing PGDM
E-Biz (flag ship program) 2013-15
'Ź €š
in We school, Bangalore .
#highly recommended college by me ! as the student batch size is less and High value B-School and excellent placements.👏
any doubts please ping me ! I'l help out on anything (most probably)
Those who are selected, please tell me, what's the deal with the data form mentioned? Do we have to fill it before a deadline? Or fill it and bring it at the time of the interview?