A. Just look at that young person with the short hair and blue jeans. Is it a boy or a girl?
B: It's a girl. She's my daughter.
A: Oh, I'm sorry, sir. I didn't know that you were her father.
B: I'm not. I'm her mother. 
 Patient: Doctor, I have a pain in my eye whenever I drink tea.
Doctor: Take the spoon out of the mug before you drink.  
 A: I have the perfect son.
B: Does he smoke?
A: No, he doesn't.
B: Does he drink whiskey?
A: No, he doesn't.
B: Does he ever come home late?
A: No, he doesn't.
B: I guess you really do have the perfect son. How old is he?
A: He will be six months old next Wednesday. 
You know something is gaining ground if TV people get excited about it.
Stand up comedy show on NDTV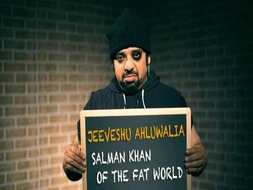 Watch Watch The Rising Stars Of Comedy on NDTV Prime Comedy @ 10 PM (IST) Video on NDTV.com. Now watch some of the funniest stand-up comics from the comfort of your home, as we travel around the country looking for upcoming artists with the gift of making people laugh.
Me doing Stand Up Comedy at AIPGM, Pune - http://www.youtube.com/watch?v=Sk4xn4Z0yKs
Me doing Stand Up Comedy at AIPGM, Pune - http://www.youtube.com/watch?v=Sk4xn4Z0yKs
Me doing Stand Up Comedy at AIPGM, Pune - http://www.youtube.com/watch?v=Sk4xn4Z0yKs
Me doing Stand Up Comedy at AIPGM, Pune - http://www.youtube.com/watch?v=Sk4xn4Z0yKs
You know her but maybe from the other Side. She is the smartest this side 😃
Me doing Stand Up Comedy at AIPGM, Pune - http://www.youtube.com/watch?v=Sk4xn4Z0yKs
Me doing Stand Up Comedy at AIPGM, Pune - http://www.youtube.com/watch?v=Sk4xn4Z0yKs