Hello Puys,
Need some help here --
I got the TIME coaching books courtesy of
http://www.pagalguy.com/@niharika.b
, but i think some books are missing as also told by her(BTW she wasn't sure) ..
Will u guys check below n tell me wot r d missing books if any :
I have the following TIME books wid me rite now : -
Quant
1- SM1001409 Basic Study Material( Quantitative Ability)
2- SM1001501 Basic Study Material( Quantitative Ability)
3-SM1001561 Basic Study Material( Solutions for SM1001501)
4- SM1001507 Basic Study Material( Quantitative Ability)
5- SM1001562 Basic Study Material( Solutions for SM1001507)
6- SM1001509 Basic Study Material( Quantitative Ability)
7- SM1001563 Basic Study Material( Solutions for SM1001509)
8- SM1001411 Basic Study Material( Practice Exercises on Quantitative Ability)
9- SM1001407 Basic Study Material( Speed Enhancement Tests)
10- SM1001461 Basic Study Material( Solutions for SM1001401)
DI/DS/LR
11- SM1001402 Basic Study Material(Data Sufficiency)
12- SM1001405 Basic Study Material(Practice Exercises on Data Interpretation)
13- SM1001406 Basic Study Material( Practice Exercises on Reasoning)
14- SM1001417 Basic Study Material(Logical Reasoning for Other Management Entrance Exams)
15- SM1001506 Basic Study Material(Reasoning)
16- SM1001508 Basic Study Material(Logical Reasoning)
ENGLISH
17- SM1001403 Basic Study Material(Reading Comprehension)
18- SM1001414 Basic Study Material( Practice Exercises on Reading comprehension)
19- SM1001404 Basic Study Material(Verbal Ability)
20- SM1001413 Basic Study Material(Practice Exercises on Verbal Ability)
21- V502 Basic Study Material(English Grammar)
22- V102 Basic Study Material(Verbal Ability- Part 2)- English Grammar & Sentence Correction
GD/PI/GA
23- SM1001410 Basic Study Material(General Awareness)
24- SM1001418 Basic Study Material(Group Discussions, And Interviews) Part-2
I hope somebody wud surely gonna help me !!
Hey , it's very important to be updated with some general knowledge and what's going in our day to day life I.e current affairs. So I m going to make WHATS APP group for that. Anyone interested inbox me your number with your name. THANK YOU
Hello everyone. If you are looking to order a test series or a booster package to propel you to CAT glory, check out my website PrepLift where you can view and order test series, study material, videos and notes from coaching institutes and testprep websites across India. 
Hey aspirants, 
I am in Dilemma
 suggest me the best online classes for CAT.. 
Story 1

Don't Blame Others !!!
Either Do the work you love
Or love the work you do...

The person who makes such type of quotes do it considering own platform of life... they write what they have achieved, and they achieve what they have liked...
I can be listed among those persons who have not achieved much yet, but has undergone though a vigorous span of motivation and enthusiasm. Most of motivation comes from either day dreaming which I do for whole of the day or some past moment not necessarily from the bucket of my own life. My brother has always remained a source of motivation for me and I have always considered him a major part of my ego. His life and instances has always tried (note the word tried) me to guide in my course of life.

"Practice with the load heavier than the one which you have to lift in your matches".

In 2003 when the IIT-JEE was conducted in 2 phase(screening and mains), He took that test. In screening, no extra paper was given for rough work and only alternative was the sheet given at the last of the question paper. Obviously it is difficult to always turn up the pages and solve up for questions. He thought for detaching that sheet for his ease. The examiner there then ate the mind and time of him reason being that why he hadn't took the permission of anyone before detaching the sheet. This means the wastage of time for around 15-20 mins and mind for whole of the exam time. I'll not say that he was as mr. cool as he should be but I think his level of preparation was upto that level that's why when the result came he scored in the line of 1500.
He scored 492 in Mains of IIT-JEE. this 492 has also 2 stories behind it,
JEE mains has 3 parts i.e. Physics, Chemistry and Maths(all of 60 marks) listed in order in which they appear. He after taking physics paper was not so happy but he found no sense in thinking more about that. when the result came he scored 21.5 in Physics around 30 in Chemistry and 44 in Maths with A.I.R 492
During his preparation time, he was once called for attending a seminar organized by FIIT-JEE. I don't exactly but a sort of examination was also given by FIIT-JEE to the students and on the basis of it a teacher there said to my bro that he can't clear IIT JEE. In reply he said that he will surely get selected. At this they said everybody wishes so but you can't. He said more firmly he'll get selected and that also with a rank above 500.
It's not any other thing like corruption or bla bla which stops us from making ourselves and this nation successful but rather it is 'NISHKRIYATA' of yourself. Many stories tell that it's worthless to put down your arms before the real battle being getting started. The fact is that all do the same and realize after putting them down.
Story 2

A small story about a IIMA IITD graduate
He was destined to crack IITD so he cracked with air 492. 4 years passed and he got a job in automobile company with low c2c package in which 1L is conditional bonus. From last year in IIT he started taking cat exam. In this attempt he got approximate 98 percentile. Next year he got 97 something  after that he got 99.4
Then also he didn't got a call from ABC. It was Lucknow and Indore. But he failed to crack GDPA. He was very upset. He is my real brother. He said to me on phone
"Yar jab IIT crack kar liya to ye kyon nahi hota". (What's problem in this when I have cracked IIT)
I didn't have any answer at that time
Nevertheless seeing scenario of competition he diverted his attention to GMAT. He prepared for GMAT and was working in that automobile company only . Not only that he was a part time faculty also in ims. Counseling was made free in terms of teaching there. He applied for mit sister concern Zaragoza logistic known as zlog in short (mit has mlog).
So he attended his company on morning shift on 6'O clock and at 3pm he was free . then at 4pm he had to attend ims and he was free at 8pm and after dinner he study for some time. We always believed that the rejection in last year will bring fruitful result. Meanwhile others application was also going on. This year also he gave CAT but as a formality because of full attention to GMAT. This time he scored 99.86 percentile in CAT Aand got interview call from AC and not B and rest iim's also (god knows what type of people IIM Bangalore wants)
Now two roads were going in parallel
He had a telephonic interview for Zaragoza from Spain whose fate was to be decided just a day before IIMA interview. He was selected for zlog and I can remember his words that day he very happy. On that next day he went for interview for IIMA .He was complete in his sense.
AND IIMA WAS ALSO CRACKED.
now herculean question
What to choose IIMA or MIt sister concern
And he chose IIMA : smiley:

One month leave from office in November, how to go about it? 
p.s. please don't say that i just need to work harder, since my health is at its worst,i'm new to the place,living alone, just about managing to survive one day at a time,so it is not easy studying in the little time that i have.
Any recommendations for a good buisness magazine???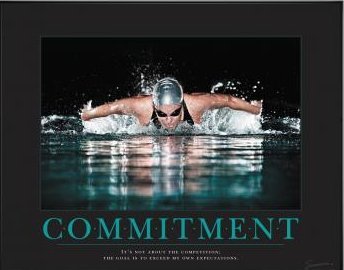 Welcome Puys to this new series of articles.
In our endeavor to deliver the best and most relevant advice to our users, we bring to you an absolutely fresh series of articles titled, 'Learn to Learn'. What is the purpose of these articles? These articles are meant to be a potpourri of advice, tips, tricks, motivation, self-help and strategy. The wide spectrum of topics covered by these articles means that each and every person can derive at least some value from these articles. Feedback is duly appreciated for this series and you can always provide suggestions for topics that you want us to cover in the series by simply commenting on the article.
Time for the action to begin! The first topic that we are going to place under the scanner is our ability to commit and perform a task to the best of our ability. Far too often we are distracted by the smallest of things and this leads to a dip in our performance. Let's take a sneak-peak in the world of spirituality and see if we can find something that motivates us to correct our flaws.
The Marathon Monks of Japan
Before we actually talk about our ability to commit to a task and perform them with the utmost sincerity, let's read a small story about 'The Marathon Monks of Japan'. These monks belong to the Tendai school of Buddhism and perform a spiritual practice by the name of 'Kaihogyo', in which they practice an extreme form of asceticism and run around a mountain by the name of Mt. Hiei. The question that should be lingering in your minds should be 'what is so special about these monks'.  Before lessons are derived from their lives, let's read more about the practice of 'Kaihogyo'.
The Kaihogyo:
The Tendai Buddhists believe that enlightenment can be attained in the current life through selfless service and devotion. The Kaihogyo is a seven year challenge in which a monk can withdraw from the challenge within the first 100 days. From day 101 onwards, he is no longer allowed to withdraw.   
What constitutes this 7 year exercise? The following rigorous exercise is what the Kaihogyo is all about:
Year 1: The monk runs for 30 km per day for 100 straight days.
Year 2:  The monk runs for 30 km per day for 100 straight days.
Year 3: The monk runs for 30 km per day for 100 straight days.
Year 4: The monk runs for 30 km per day for 200 straight days this time.
Year 5: The monk runs for 30 km per day for 200 straight days. Also, in this year, the monk has to go seven and a half days without food, water, or rest of any kind. This is one of the most daunting parts of the whole exercise.
Year 6: The monk must run for 60 km per day for 100 straight days.
Year 7: The monk must run for 84 km per day for 100 straight days and this is followed by a run of 30 km per day for the last 100 days
This completes the 1000 day marathon. Some marathon, right?
Where is the trick in this?
Well, the trick is a simple one. The monks can only withdraw within the first hundred days and from the 101st day onwards, he must either complete the exercise or take his own life. Now this is some level of commitment to one's task. Since 1885, only 46 men have completed this challenge.
What do we learn from these monks?
This brings us to the most important part of this article: how is this story relevant for us? This tale of extreme devotion teaches us some very important lessons:
Devotion to your cause
The monks are a perfect illustration of single-minded devotion to a cause. Far too often, especially in the modern age, we allow ourselves to be distracted because of the most trivial of reasons. Avoid this temptation and next time you feel the urge to check your phone/use a social networking site/watch videos while you are working on something, just recall the dedication of these monks. This should provide enough motivation to avoid the frivolous activities we involve ourselves in.
Put a price-tag on the outcome:
In the case of marathon monks, the premium they have placed on the exercise is their life itself. Such an extreme commitment might not be required of you but make sure the exercise you commit carries a certain price tag. The modern day world, with all its comforts, has spoiled us to a certain extent and it is important that we truly understand the cost of failure.
Focus on the process, not on your watch:
What would happen if the marathon monks begin to think that it takes too much time to complete the Kaihogya and decide to shorten the exercise? Would that work? Won't they feel they have cheated the system? Wouldn't it make their spiritual exercise futile? It is obvious that shortcuts would kill the value of Kaihogya. You also need to adopt a similar mindset when it comes to the tasks you commit yourself to: do not take shortcuts and do not focus on how long it is taking to complete the task. You simple focus should be on the sense of achievement you would feel once you complete the task. The end result is your nirvana (if referred to in terms of spirituality.)
How do we proceed from here?
Now that you have read the complete story here, all you need to do is
· Identify your Kaihogya and commit to it
· Make sure nothing comes between you and your task
· And set a price-tag on failure.
After all, it is all about pushing yourself to the limit in order to achieve your goal.
Student Rep, Public Relations, DoMS, NIT Trichy
can u post some base system concepts?
CAT 2015 - 98.68 IIFT 2015 - 99.46 XAT 2016 - 97.92 MHCET 2016 - 99.8