Vignana Jyothi Institute of Management has yet again structured an awe-inspiring seminar of a woman only"Awareness on Sexual Assault" to help the students train themselves and know exactly what sexual harassment is, and what to do about harassment if they see it happening to them or anyone else.
The success of a good seminar is not only built on its content but also upon the way in which the team of faculty works together in order to educate the students. Likewise, other than the PGDM course, lectures and seminars frequently conducted by VJIM are a vital part that gives you a chance to discuss topics and concerns with one of the most distinguished lecturers.
While addressing the students at the End of Term 1:
"Tomorrow is the last day of Term 1. On behalf of the faculty of VJIM, I want to acknowledge & applaud for the students, for all the effort they have put in to adjust with the work culture at VJIM. You may have perceived us as task masters, but it was done with the purpose of inculcating a sense of discipline and an atmosphere of responsibility, towards identifying ones potential to cope with work pressures that you will face at the workplace tomorrow. We hope you all have taken it in stride and will do so in future. " - Course co-ordinator Dr. Padmaja.
Are you confused with choosing the right MBA programme? Look at what our Professor A. Ramesh has to say:
http://vjimhyderabad.ac.in/wp-content/uploads/2...
Mr. Ramesh is one of our distinguished faculty for Marketing who is also a visiting faculty at IIM-K. He was invited as a speaker by UX-India 2013 and has various research papers presented at in IIM-B, Great Lakes, Chennai and ISB, Hyderabad.
Why the hostel looks empty? Exam fever! Students don't leave the college, busy at discussions👍 Wishing the first year students all the very best for their 1st Trimester exams!
One of the best clicks by Arvind during the Holi Celebrations at VJIM Hostel 😍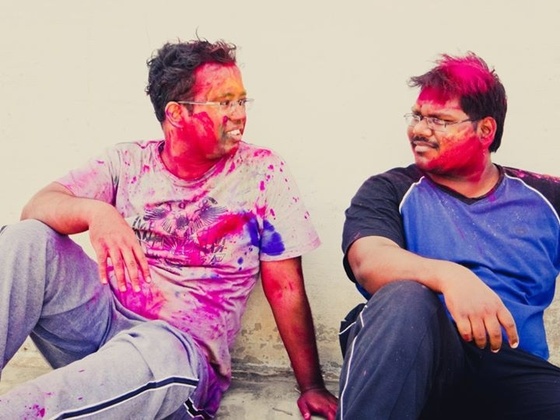 #Upcoming Events: AICTE Sponsored Seminar on "Managing Workforce Diversity" on 30th Nov, 2013
VJIM has always been a heaven for every future managers we nurture. Our friend Arvind Panthagada has beautifully captured his classmates spreading their smiles 😃

Turn on HD while watching..... Memories of 1st year 1st term @ VJIM
The VJIM students were all decked up and enjoying the brighter day, Diwali, the festival of lights!
We wish all of you a very happy Diwali. May you hyave lot of prosperity, happiness and peace! 😃

Turn on HD while watching....
An excellent creativity by Aravind Panthagada, first year MBA at VJIM