It will be a pure delight to watch MBA and PGDM students of SRIMT playing football at JRE group of institution on 14th February. The football team of SRIMT is participating in inter college football league. These co-curricular activities are organized to take out the hidden qualities apart from education to groom the personality of students of SRIMT.
Without a shadow of doubt one of the most beneficial parts of SRIMT is the sporting opportunities offered to every interested student, through college sports league and inter college sports league. Regardless of seniority & ability, students here at SRIMT have the opportunity to take part in sports in a relaxed and enjoyable environment.
http://www.pagalguy.com/forums/mat-cmat-and-state-exams/admission-query-sriram-business-school-greater-noida-official-thread-t-81104/p-3432952
Sriram Business School €" Nurturing Future Managers
"Building Professionals with character"
Master of business administration (MBA) is the most important education is today's highly competitive era. Nowadays, the knowledge and education both goes hand in hand for successful career. It becomes more important for a student to have an MBA degree to face the hurdles of career and climb the ladder of success faster. While pursing MBA one can increase his potential, develop skill sets and sharpen the knowledge. These all abilities are the requirement of a successful manager which is instilled during the course. There are various colleges around the country Sriram business school is one of the finest management colleges of the country.
Sriram business school focuses on providing wholesome learning to students and makes them prepared for the corporate world. In order to instill perfection in students the college provides students both theoretical and practical learning. Hence, the college follows one of the different ways of teaching that is experiential learning. This module focuses on providing practical exposure to students. It gives students an option to practically conceptualize their theoretical sessions that helps them to have the insight of the industry. Those students who learn through self experiencing tend to take things more realistically which makes them better decision makers.
The college hires some of the finest faculty from the market. They are well experienced and highly skilled, thus they know the inside out of the industry. Professors of Sriram business school cater their expertise to students which makes them proficient individuals. They make students aware about the changing industry trends so that students can develop certain abilities and bridge the gap between skills they have and skills required. Teachers also strive harder to transform students into a team player because in corporate world those who are successful team players tend to succeed faster.
During the course students are sent for industrial training so that they can have a better idea of how work is executed in the commercial world. The placement cell of the college works hard to fetch out best of the job opportunities from the market and cater to students. Hence students of Sriram tend to start their career early and register growth in their profession faster.
http://www.pagalguy.com/forums/mat-cmat-and-state-exams/admission-query-sriram-business-school-greater-noida-official-thread-t-81104/p-3432952
During the last Alumni Meet, held on April 06, 2013, I remember the fun and frolic, the intensity of traction Sriram had created in bringing students back to their college and the manner in which all of them shared their experiences at the college when they were students. I also remember how quite a few of them had tears in their eyes when they ruminated several stories and incidents of their student life in their college.I was quite moved when I saw few of the students going to their class and hostel rooms "just to experience that old feeling once again." As somebody who was actively involved, it was a very satisfying experience for me to see the final year students acting so responsibly and going out of the way to make their seniors "special." Well, life has taken a full circle—last year's "final year" students have become Alumni and they would be coming this year along with their seniors, to be welcomed by the existing students and I strongly believe that this legacy would continue.Alumni are one of the primary stakeholders of any college who always carry the yeomen thought in their heart to see their college growing and they always act upon with a sense of responsibility and right in guiding their juniors with an elderly love and affection.I am glad that Sriram is celebrating this year's Alumni meet on 6th of April, 2014. Good luck.
Affectionately.
Prof.C. Devidasan
SRIMT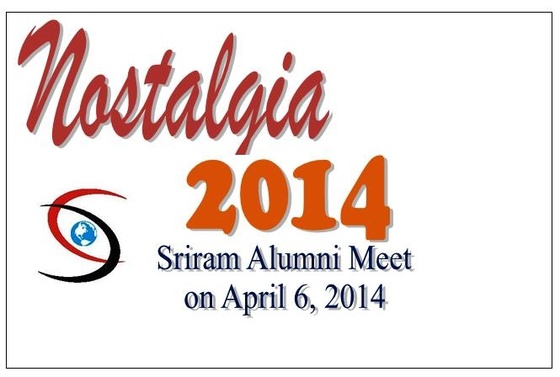 http://www.pagalguy.com/forums/mat-cmat-and-state-exams/admission-query-sriram-business-school-greater-noida-official-thread-t-81104/p-3432952

Our Social Initiatives at SRIRAM
• Rural Internship Program by SRIRAM MBA Students, Working with rural schools in Bihar and Jharkhand. Working with community in Village of Jharkhand and Bihar.
• Antaryatra: a yatra with to the interiors of Bihar to understand the opportunities and challenges in the rural areas of India.DSF students of our esteemed college went on a Yatra with their Mentor, Prof Rakesh Pandey to the interiors of Bihar to "understand the opportunities and challenges in the rural areas of India." The Yatra was an initiative of our own Dreams Sans Frontier students club along with an NGO, Antral and where three of our students were undergoing an SIP with them in a Rural village bottom of the pyramid school in the state of Jharkhand. Started from 11th of August 2013 from Begusarai the Yatra concluded at Vaishali at Bihar on the Independence Day on 15th of August 2013
• SRIRAM students participates in the walk at India gate towards population stabilization
• Seminar by Mr. Neerja Kohli Faculty,Art of Living Foundation
Eduthon 2013
• The student Club of Sriram, Dream Sans Frontier in partnership with Antral, a Bihar based NGO organized a mini marathon, "Eduthon 2013" on 17th November where students in large number and people from all walks of the life participated.
• On 17th November the volunteers of DSF-- Dream Sans Frontier, Sriram Students Club and Antral got up early in the morning for the proper arrangement of the event, not only the volunteers but they motivated other students of Sriram for the involvement. They were busy in helping the participants of Mini Marathon with the registration process. The entrance Gate had adorned a huge banner which said, "Eduthon 2013—Run for a cause" and road showed the sign, arrows and banners on the way towards campus. It also helped the participants to show the way of 10 Km.
• Eduthon was organized for helping a bottom of the pyramid schools in Bihar. They understand their responsibilities towards the society and country. They want to bridge the gap between the education facility of rural and urban areas. As the sun slowly started spreading its rays, the number of the participants began increasing. There were several students from the nearby colleges including the students of Sharda University, PIMT, G L Bajaj, Galgotias, GNIT, to name a few. The event also attracted some faculty from nearby colleges.
• The girls and boys ran….so did the young and old…the volunteers who were positioned at various places on the route stood by to help the runners, the few students who turned up as water boys filled the glasses with water to drink…..the arrows painted on the entire route guided the participants….the cameras clicked and the films rolled.
• The first and the second position in the boys category was won by two young men, one: Mr Madan Kumar of PIMT and the other a working professional by name Mr. Hari Om Kumar. It was then the time for girls. The first position went to Divya Shukla and second to Anshika Thakur, both Sriram students of final year MBA.
• With the distribution of prizes and certificates the event came to an end and tired students were strolling, sitting in the lawns and enjoying the refreshment. And like this marked the end of one successful event.
http://www.pagalguy.com/forums/mat-cmat-and-state-exams/admission-query-sriram-business-school-greater-noida-official-thread-t-81104/p-3432952
As we all are know that the decision to pursue MBA degree is one of the most important investments we have made in our life. It will have an enormous impact on the return that we will have on our investment.
Here are few words said by the Dean of college for their students €" €œThis is your placement year. You cannot sit back and relax. It is time to get up and prepare for the challenge. There is tough corporate world waiting for you, a world that does not listen to excuses or complains but only appreciates performance. It is the year which requires your commitment, dedication and sacrifice. A complete business education must go beyond a technical knowledge, passing the examination, getting grades. It's about values, ethics, discipline and leadership, it's about positive attitude and it's about a problem solving mind which can take challenge. €?
He also focuses on the objectives of the faculties, to help each students define them and grow as a leader in all areas of life. He throws the light on their students and said that you are the business students and you should be challenged to follow your passion.
Setting aside fears of a lull in placements this year in the backdrop of the upcoming election in 2014, recruitment drives have started on a positive note in SRIMT, making available to students job opportunities in all fields.
While placement records have not been that good in MBA colleges for the last couple of years, But last few months of recruitment this year has shown good trend at SRIMT as few of the companies already visited colleges for campus drive and n numbers of students got selected through their personal reference. A large number of the total strength have already got offer letter in their hand with a good expected salary and profile. The good thing is that still almost 5 months are left to complete their MBA program. It is assuming that placement record this year will be much better than that of the previous year. "The student placement scenario was a bit grim last year as compared to this year. In fact, SRIMT Placement Cell has undertaken special initiatives to place the students of the 2012-14 batch.
http://www.pagalguy.com/forums/mat-cmat-and-state-exams/admission-query-sriram-business-school-greater-noida-official-thread-t-81104/p-3432952
Life @ SRIRAM
STAR Activity :
The motive of star activities is to generate excitement, knowledge and fun with healthy competition in order to channelize the positive energy of the students in right direction. Star activity journey started by dividing the students of Sriram in Four Houses (Shivhese houses compete with each other at different co and extra curriculum activities.
Few activities ofc STAR
· Debate Competition
· Quiz Competition
· Skit Competition
· Cultural Competition
· Sports
· Management Games
Suprabhatam:
"Building Professionals with Character" is the mission of SRIRAM and the stepping stone to complete this noble mission is Suprabhatam. The academic activities at SRIRAM start with Suprabhatam. All the Students and faculties gather at a specified place for suprabhatam where the proceedings start with Saraswati Vandana followed by some good thoughts from our students and comes to an end with national anthem. There is a saying that attitude defines your altitude. It is vital for the students to start their day with positivity and sacredness
Dream sans Frontier
DSF as it stands for Dream Sans Frontier is a students club which has been initiated to bridge the gap between academia and the industry requirements. The focus is to develop the students holistically for the upcoming challenge in the industry. They are inculcated with all types of managerial skills through various activities
http://www.pagalguy.com/forums/mat-cmat-and-state-exams/admission-query-sriram-business-school-greater-noida-official-thread-t-81104/p-3432952
Staring the journey of Master of Business Administration(MBA) at SRIMT has given me plenty of hopes and wants. The time moves on with a life which sounds hectic but if I observe minutely, It's full of exposure, including lots of experience and more over elucidating an enigma within us. Looking beyond knowledge through lectures SRIMT comprises of many committee and clubs. The one which happens to be the dream of many is being a member of "The Student Placement Committee". I am also one among those lucky guys who has selected to take care of student placement committee of SRIMT.
Generally, at SRIMT college placement process is taken care by a full time working training and placement officer and the student placement committee. Student placement committee works under the guidance of the faculty adviser and placement officer of the Institute. Being a part and parcel of this committee is neither impossible nor a cake walk as the members have to involve themselves in various placement related task….
Individual Development programmer at SRIRAM
IDP it's an internal development program which is run by the college for the internal development of individual student it has been a phenomenal help in preparing for life's journey which help you out from sophomoric conditions of the life, and help you harbinger for the head in your life, its helped me learn a great deal about myself, as well as the complex world of senior. It proved to be a great experience and led to a full-time position upon my career
Mentoring :-
· Each student of SRIRAM is attached to faculty and industry mentors for personal guidance, career advancement and development.
· SRIRAM mentoring is inspired by SRIRAM philosophy - "Building Professionals with Character".
· Corporate Mentorship Program through Industry Professionals
http://www.pagalguy.com/forums/mat-cmat-and-state-exams/admission-query-sriram-business-school-greater-noida-official-thread-t-81104/p-3432952
Selection Process at SRIRAM
At Sriram in association with a leadership Scan Test(MLQ) where we scan potential leaders on leadership traits and recognize bright sparks and help transform them to be great leaders and therefore effective and complete managers while they are with us for the two years of the management program alongside academics. This is about giving the corporate world Leaders and not just mere managers
Measuring Manager Like Qualities (MLQ)
· Each career has a unique qualitative requirement.
· This unique requirement is 85% accountable for getting on a job.
· MLQ – Management career line/profession has 11 MLQs attached to it
DEFINING Manager Like Qualities
· Desire to learn
· Team Player
· Organized ( Work and Time Wise)
· Leadership (by Example)
· Values and Integrity
· Proactive and Visionary
· Innovative
· Structured Communicator - (writing and Verbal both)
· Delegation (Judiciously)
· Analytical
· Committed
http://www.pagalguy.com/forums/mat-cmat-and-state-exams/admission-query-sriram-business-school-greater-noida-official-thread-t-81104/p-3432952