Check out the Flickr photo stream for 4th edition of TEDxSIBMBengaluru !
#LifeAtSIBMB
4th Edition of TEDxSIBMBengaluru was held at SIBM Bengaluru on 10th January,2015. 
TEDx Talks revolved around the central theme: 'CarpeDiem'
 SymBeat: Monthly Newsletter of SIBM Bengaluru, run by the student community.
Check various articles related to MBA, Politics, Technology, Book/Movie review, Fashion etc. in it.
#LifeAtSIBMB
Like you invest in a school to learn you should also invest in a market to learn.
Hi ... can someone help me with the placement record of SIBM Bangalore of the last batch , as in what was the highest and lowest package ,what percentage of students got placed and what were the job profiles offered. I have been shortlisted for the MBA program and require info about the placement record of the institute. Thanks in advance.
Can someone please tell the avg strength of HR in SIBM B?
And how are the placements for HR?
For the third consecutive year, SIBM Bengaluru is organizing TEDx on 8th February, 2014.
For all updates keep checking the following website.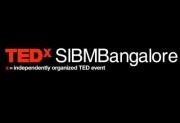 TEDxSIBMBangalore. 931 likes 路 259 talking about this. About TEDx, x = independently organized event In the spirit of ideas worth spreading, TEDx is a program of local, self-organized events that bring people together to share a TED-like experience. At a TEDx event, TEDTalks video and live...
Swati Singla, Member- Team SymBITion, SIBM Bengaluru 2013-2015