So, I am an aspiring MBA Student. I am done with my interview at DMS Delhi on 29th Feb. They haven't communicated anything regarding the admission process or when the result might be out. I would really appreciate any help. 
  hiii cat -90.16 economic hons -7.82cgpa ,  12- 83%, 10-9 cgpa . female  Gen . 
Do i have any chances to get a call ?
Hi
CAT- 93.27, B TECH- 7.29, 12TH -93.6, X-10 CGPA, Experiance- 30 M, Female, Gen category.. Any chance
Are the hostels for MBA and Btech students same? Is it double sharing or triple sharing for girls?
For regular updates about DMS, IIT Delhi. Follow DMS on Facebook


DMS, IIT Delhi, New Delhi, India. 1,639 likes 路 90 talking about this 路 3,403 were here. DMS, ever since its inception has been growing in strength and stature, gaining from the synergy provided by the rich technological and intellectual environment of the multi-dimensional academic programmes...
CAT 2012: 98.28 converts: IMT G, VGSOM and DMS IIT Delhi. Rejects : 6 new iims :(
DMS organized the entrepreneurship meet and start up showcase. Read to see that the entrepreneurship is in the blood of IIT Delhi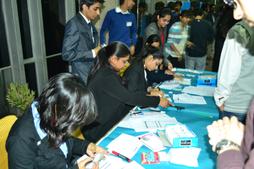 15th of November, on the verge of semester completion, an entrepreneurial talk series and product showcase event was held at the Seminar Hall, IIT Delhi. The event was in collaboration with the IIT Delhi Alumni Association (IITDAA) and was flagged off by Mr Atul from IITDAA, with the recitation...
"Start-UP Young" at DMS IIT Delhi conducted by
Startup Leadership Program, along with Global Entrepreneurship Week.
At the Start-UP Young event, we would try to provide some practical solutions and tips to the student and young entrepreneurs.
Venue: Room Number 101, Bharti Building, IIT Delhi. 110016.
Start-UP Young is a mentoring session and panel discussion - for students with awesome entrepreneurial ideas. The session is conducted by Startup Leadership Program, along with Global Entrepreneurship Week, and Department of Management Studies, Indian Institute of Technology - Delhi.
CNBC's Young Turks Start-up India funding Challenge @ DMS IIT Delhi
WOW wat a thread 😲 Really you guys have put some great insights of DMS, IIT Delhi. I would love to find some more news directly from horse's mouth (read seniors).

BTW love the quote "NETWORK BANAA, NETWORK!!!"
Networking is after all what MBA is all about (whether virtual or interpersonal)...
:P