My sister got a rank of 5707(gen). I know its not good enough but what can be her options? 
Also, based on her mains score, she will get any nit with any branch.
DT'15 || CAT'14 = 99.61 || CAT'15 = 99.58 || CAT'16 = 99.61 XAT'17 = 99.80; XLRI BM 2017-19
'Outside of a dog, a book is man's best friend Inside of a dog it's too dark to read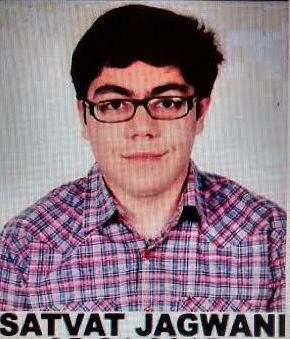 Satvat Jagwani from Satna, Madhya Pradesh has topped JEE Advanced  2015. Satvat scored 469 in the exam. The top three ranks this year have gone to Madhya Pradesh with  Indore boys Janak Agarwal and Mukesh Pareekh  securing secured All India Rank 2 and 3. 
Check here for summary of results. 
Check your results at - https://jeeadv15.iitb.ac.in/jeeAdv/stud_login.jsp
According to information available, Turaka Bhavan with AIR 39 topped in the  Scheduled Caste  category while Harsh Meena (AIR 633) came first among ST candidates. Of the top 10 rankers, five are from IIT Madras zone, two from IIT Delhi zone and one each from IIT Bombay, IIT Kanpur and IIT Roorkee.
Besides the IITs,  JEE Advanced results can also be used by Indian School of Mines (ISM) Dhanbad, Rajiv Gandhi Institute of Petroleum Technology (RGIPT) Rae Bareli and Indian Institute of Science, Education and Research (IISER) Thiruvananthapuram for admissions to their courses.
This year, a total of  1,24,741 candidates registered for the exam, of which 1,17,238 candidates had appeared in both the papers. Of this  23,456 qualified.
This year the cutoff to appear for JEE (Advanced) was 105 for General candidates, much lower than that of last year at 115. For OBC it was 70, 50 for Schedule Caste (SC) and 44 for Schedule Tribe (ST). This, it is believed, was because of the setting up of more IITs by the government. 
Charting the course ahead, the IIT aspirant has to be within the category-wise top 20 percentile of successful candidates in the Class 12 board examination or he/she should have secured 75% (for GEN or OBC-NCL) or 70% (SC, ST or PwD) of aggregate marks in the Class 12 (or equivalent) board examination.
The marks scored in five subjects: Physics, Chemistry,  Mathematics, a language (if the candidate has taken more than one language, then the language with the higher marks will be considered), and any subject other than the above four. The subject with the higher marks will be considered, for calculating aggregate marks and cut-off for fulfilling the top 20 percentile criterion.
Discuss your JEE Advanced results on PaGaLGuY here.
'Outside of a dog, a book is man's best friend Inside of a dog it's too dark to read
JEE Advanced 2015 results out at 10 am tomorrow
JEE Advanced Results are expected to be announced on June 18, 2015 at 10.00am. Candidates can check their results right here on PaGaLGuY.
The marks for the answers for  the JEE Advanced were released on June 13 and are available on the official website. The Optical Response Sheet (ORS) and scanned images, cut-off marks and rank list for preparatory courses have also been published.