Elan Overseas Education Loans, a group company of Krishna Consultants, aims to provide education loans for students looking to study overseas. With a presence not only in India, but also Sri Lanka and Nepal, Elan facilitates students in securing the best deal for Overseas education Loans. Not only do we provide affordable loans, we facilitate amount sanction before visa and assist the student to in showing "proof of funds". 

@Credila-EduLoan: I already taken a education loan for my BTech. Now that I have got an admit in PGDIE from NITIE Mumbai which will require another 8 lakhs. Can I apply for a loan for this sum? 
Hello everyone, Could someone please brief me about how to get an education loan for MBA in India.

Please reply.. Need the information urgently.

I have a loan of 30 L form HDFC . Planning for executive MBA from a reputed institute. May need around 11 L additional education loan. having work exp of 9 year, My wife is working. her CTC is around 10L. my question is that 1.) whether any financial institute will approve my education loan?
2) Can i ask for a break for 1 year from my Home loan?
@Credila-EduLoan please reply.
The civil cervices examinations are a terror as all of us recognize it. The reason being that just one, out of probably five hundred folks, manages to remove the test due to its level of problem. The ordinary folks discover it extremely difficult or even alongside impossible to remove this paper. It is believed that only the gifted and highly intellectual and wise individuals can remove it that also with wonderful difficulty and a rigorous prep work.
The design observed earlier was a one where the aspirants or folks carrying out the exam were meant to offer an initial examination and afterwards the mains and simply if they cleared the major evaluations they were picked further. Nonetheless the pattern will shortly change and the modification will certainly be noted from next year onwards. Therefore the people securing civil services evaluation will be experiencing a various pattern entirely, right or for the worse, no one recognizes yet but it is hopefully for the better just.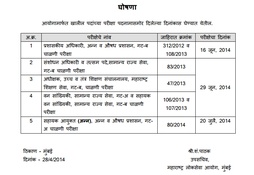 MPSC Online Exam Date 2014 for Direct recruitment
Hi,
I am planning for my PG studies abroad and need a loan of 12-15 lacs INR. I am ready to keep a collateral as security but my problem lies with the co applicant requirement.
I do not have an immediate kin who can be my co applicant.
My mother's cousin is ready to be my co applicant. He is a government servant with strong financial background. Is there a way i may be eligible for education loan.
Kindly suggest me in this regard please.
Avanse Financial Services is an fastest education loan provider for study abroad education.
Kindly visit: www.avanse.com for more information.

Avanse Financial Services Ltd.
@reviliant
If you can share your contact number and email id, our education loan expert will call and assist you in detail.

www.credila.com @Credila-EduLoan
@Credila-EduLoan said:

@reviliant It is advisable and recommended to mention all your liabilities while you apply for any sort of loan. Every bank and NBFC in India runs a Credit Check on each applicant and their guarrantor / co-borrower before processing it further. This Credit checks discloses all the Credit history for that particular applicant or co-applicant.
Hello,
I intend to take a loan of 25 lacs INR for pursuing MBA from Hong Kong. I have taken home loan from HDFC along with my wife.

Please let me know the details of interest + principal.

Continuous learning is the best way of defense