1. Named after the Roman god of war, Mars is often called the Red Planet due to the iron oxide prevalent on its surface, which gives it a reddish look. 2. Mars is the fourth planet from the Sun and the second smallest planet in the Solar System.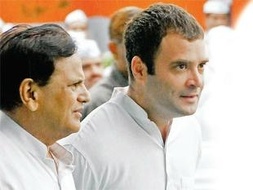 NEW DELHI: Ahmed Patel and Rahul Gandhi are two very different men. Patel is the classic party strategist, sharp and low profile to the point of being unassuming. He keeps long hours, is accessible to many leaders and works on the basis of people management and intra-party networks.
http://ecoenthusiastme.blogspot.in/
Recently Came across this article on Facebook about Air France treating Passengers( specially those of indian origin) It would be great if you could help spread some awareness by sharing it on various social media!. English usage in the article is good too. Good for RC and vocab!
PGP @ IIM Nagpur 2015 - 2017
NITIE, GIM, IIFM forms are out- those interested can apply
You live only once! No regrets -move ahead
Hi Everyone,
This is Shivangi Agarwal,student of PGDM in JIMS Rohini sector 5. This is to inform you all that we are organizing a fest named OCCULT2K13 which will be held on 29-30th November. Interested students can get themselves registered on the address mentioned below:
For more information on this college fest, please contact the event co-ordinators directly by logging into this website as mentioned above. Please drop your comments below if you have been to this college fest earlier or if you are planning to go this time.
YOU CAN WIN CASH PRIZES UP TO 1.1 LAC 👼
GUYS HURRY UP AND REGISTER YOURSELF!!! 👍
*** For further queries please mail me at : agarwal.shivangi2003@gmail.com
Thanks 😃😃
Winston Churchill, former British Prime minister had once said that if India ever gets freedom, it would be run by goons.
I say, the man had got it right.
A brave, honest and young IAS officer, Smt Durgashakti Nagpal, who took on the powerful sand mafia in Noida, was hurriedly suspended for supposedly...
Manzil toh mil hi jayegi bhatakte hue.. Gumraah toh woh hain jo ghar se nikle hi nahi..
Aditya Pancholi's son Sooraj Pancholi will undergo to a narco test on July 1. He was arrested by the Police on June 10 in charge of Jiya Khan murder.
Hey guyz Shami Ahmed replaced Irfan Pathan from the West Indies tri-series due to injury...
Now the Indian Cricket team have these players for the West Indies tournament
Mahendra Singh Dhoni (Captain), Shikhar Dhawan, Virat Kholi, Suresh Raina, Dinesh Karthik, Murali Vijay, Rohit Sharma, Ravindra Jadeja, Ravichandran Ashwin, Shami Ahmed, Umesh Yadav, Bhuvneshwar Kumar, Ishant Sharma, Amit Mishra and R Vinay Kumar.
Okay. So we have a news based thread actually
http://ecoenthusiastme.blogspot.in/
SOIL's Official Admissions Query Thread:http://www.pagalguy.com/discussions/official-2016-2017-admission-query-thread-of-soil-post-gra