Does anyone here know how good is Symbiosis School of Banking and Finance (SSBF) ?
I just got a call from SSBF for admission while I'll probably be getting IES or Chetana in CAP round 2 of Maharashtra.
P.S : SSBF was previously SSBM.
I got 150 /400 in September CMAT. I am a SC student. Plz suggest me which good b school I can apply for?
does anyone has any idea about GIM health management ?
Please advice...
could anybody say the percentile for the score 153/400 GEN,please!!!
What are the chances of getting into GIM if cmat feb score is 110-130?(Goan origin)

If anyone is interested in share market and want to make it BIG in life, wath the movement of "marksans pharma" for this week..I will tell you an interesting story on monday...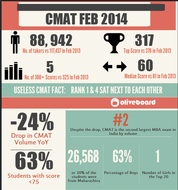 The AICTE released the results of CMAT 2014 a couple of days ago and it bears an interesting but not too surprising comparison with the same exam a year ago. 88,942 students wrote the exam which was topped by Hendre Omkar Pravinchandra of Kolhapur with a score of 317.
http://www.oliveboard.com| Prepare for CAT, XAT, SBI PO, IBPS PO and other MBA/Bank Exams
Plz help
hi!! my cmat score is 102 and rank 19194.... percentile 78
which colleges can be applied??
Hi friends.

I have got 148 out of 400 in February CMAT 2014. My all India rank is 7110.

Cetegory- SC

How can I calculate my Percentile?(method)

Which B School I should apply?


plz share your views with forum. It will be helpful to all. thanks in advance.