hey frnds!!! i got into a trouble..please help me out..i failed to make payment within 3 working days for sbi po exam..what should i do?
Some useful links for banks exams preparation:-
Cube roots tricks, math shortcut tricks, find cube from 1 to 99 of given number in banking and many other exam there is many question related to cube roots. In exam specially banking 2-3 question are related to cube roots.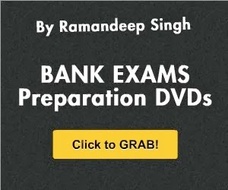 Quantitative aptitude is one of the toughest part of bank po, ibps or any other govt exam. Although most of the candidates afraid from quantitative section but it is the most scoring subject. Normally there are 50 questions in quantitative section, out of 50, 20 are easy.
---XIMB(2014-2016)--- https://www.facebook.com/swarup.rinku
Start Posting Questions you're unable to solve or tough questions which you've solved and wanting other to know... Let's solve together !!
TOPICS:Number series
Puzzles,
Arrangements
Input Output Questions
Critical Reasoning
Data Sufficiency
Syllogisms
Non-Verbal Reasoning
etc etc
Quantative Aptitude and DI includes In this Section
AND also BANKING AWARENESS
Please Do Contribute !
---XIMB(2014-2016)--- https://www.facebook.com/swarup.rinku