hey
i want to know whether one can sit for UGC nET after pgdm ?
i have been selected for PI for ipm....any suggestions on that course is welcome.is it worth the money spent on it?
for all those who are going to join B-schools this year... take a lot of sleep in this notice-period or home-stay
because this will be the condition for most of you from june - sep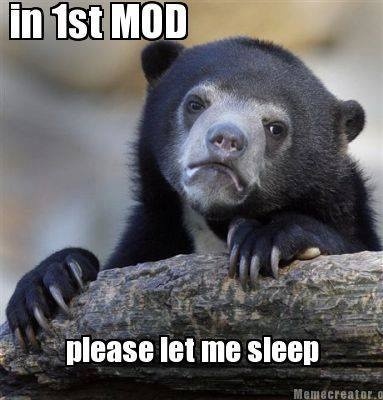 NITIE :2013-15 Special Mention PUYscar award '13 (actually didn't get any award) http://pagalguy.com/news/shutterbugs-nitie-a-17924979/
I am an average science graduate and I planned to do MBA in this academic year..but my friends are scaring me €Śis MBA really that hard??
I want to pursue MBA in HR from Government recognized University can some one please suggest me the names of the universities and time for registration along with the fee detail
hello , i would like to know , that only engineers and it background people can go for operations and it specializations? or people from commerce background can also go for operations and it/systems?
I am an MBA aspirant. I have 2.3 years of experience and I am currently earning around 6 lac per year, with in hand amount per month around 46k.

I see most of the b-schools in India charge fee around 15 lac. This means @12% interest rate, I will have to pay an EMI of around 40k every month.

So, just wanted to know, what exact in hand amount on average, a student of top (read as top 10) b-school gets.

I am asking this to take further decision on pursuing MBA.

Also, please don't tell me not to be concerned about money and rather focus on knowledge
. As money is the only thing that matters to me🍻🍻

Any help will be appreciated.

Please enlighten.
I am an MBA aspirant. I have 2.3 years of experience and I am currently earning around 6 lac per year. I see most of the MBA schools have fee around 15 lac which means @ 12% interest rate, I will be paying around 40k per month as EMI for next 5 years.

So, I would like to know the exact 'in hand' amount on average one gets after passing out from a b-school, which is considered to be in top 10 in India.

I am asking this because I think sometimes package which are published by b-schools are bit inflated and include variable component as well.

Please enlighten.😃

Thanks


Hi,
I want to go MBA Marketing and work in the Marketing field for rest of my life, currently I have 2.10 Yrs Exp in the field of IT as a Software Engineer. After completing engineering, I was without job for 2 Yrs and later joined a Software job, this is the biggest mistake I did. I never liked Software and now I CANNOT continue in this field any more, I want to switch the domain and work in Marketing, I like FMCG business. I never ever want to work in IT even if it is a marketing job.
1.) Please some one tell me which is the best college for me to do MBA Marketing in India.
2.) If I do MBA Marketing, what will be the possibility to get a Marketing job in FMCG industry (No IT industry), as I already have 2.10Yrs exp and by next year it will be 3+Yrs can when I get MBA admission next year, will it be hard for recruiter even to consider me for Marketing job in any filed other than IT.
My Profile:
----------------
Edu Qualification:- BE(ECE)
Year of Pass- 2009
Years of Exp- 2.10 Yrs
Industry- IT
Role-Software Engineer
Domain -Software Performance Testing
Thanks in Advance
MBA is something, related to management studies! It is about the the further studies for career which helps in building career! You have various opportunities to choose which program and in which field you can make your career! It is on the basis of your interest and which will help you to be dedicated and also achieve some aim !