hi guys, i want to know this years cutt off for SC category, please let me know. thanks in Advance
guys does any one know how many people got selected in the waiting list
any movement in pgp-abm waitlist...please mention...Today 18 June 2014
all the best to all the waiting list guys(including me). Lets hope for the best.
So just a week more for june 18, do any of you know ppl who have dropped A or any news from seniors on WL movement? losing hope day by day
can anyone please tell me the cut off percentile for GEN category to get a call from IIM A??? 😐 😐
Read about Dr Kalam at IIM A. One question to the seniors - are the interactions with such personalities on campus one to one, or is it a more like a talk in an large audi where interaction is minimal? It would be quite a crazy learning experience if one could spend some time in small discussions with such eminent people.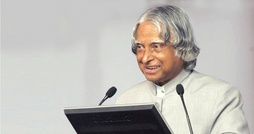 Dr A P J Abdul Kalam, Former President of India addressed the One Year MBA (PGPX) students at IIM A as part of the speaker series organised by the B-school. Kalam emphasized that leaders should not worry about what they gain but instead focus on what they give.
Anyone leaving or left IIM K after 29th May from SC category? and even if waitlisted there and leaving it plz mention ur waitlist number too.
Calls from IIM L, K AND ALL 6 new IIMs, MFC, MBE, GIM... Converts: IIM Rohtak, Raipur, Kashipur, Udaipur, Ranchi, MBE, GIM.... Joining IIM Rohtak/Ranchi if IIM K doesn't get convert