Errr.. kinda late..
but Happy Independence day .. all !

Mere pyare mitron! :)

Bharatwarsh ki swatantrata ki eeksathwin jayanti pe main aap sabko hardik subhkamnayen deta hun. :)

India will be independent in a true sense when, we will be able to call off all non-India movements which are producing offspring inside the country by some small group of ill tempered people. We are under leverage of something called Inflation in a truly bad sense. Corruption has taken a shape of profession these days. Surprisingly, when some one, a gentle soul, doesn't intends to take a bribe, his/her colleague starts babbling to him, which sounds like... "Oh, poor chap, you are getting off-track now!"

There are many more things, which will need a group work and an integrated approach to get rid off. Hope, we as an individual, We, Citizen of India find this situation serious one and start working on it. And, we all know, where and what we need to work on! 😃

Happy Independence Day to all the sane-but-inzane people out here! :)

:rockon:
friends some months ago i had come across an advertising campaingn of india bulls...
feel its apt to share it with youll today:


For 60 Years India has been a Developing Country.

BEGINNING TODAY CONSIDER IT DEVELOPED

How the world perceives us depends on how we choose to see ourselves. With
the belief that we are a part of the developed nation, we no longer strive
to prove our mettle, but challenge world standards. We don't wait, but
initiate. We don't just think, but go out and achieve the unthinkable. Our
high-rise apartments and high-tech malls can make any developed nation wish
they were theirs. Our SEZs and corporate parks offer an economic edge that
the whole world envies. So when we say India is now a developed country,
rest assured we have concrete proof.

- Advertisement Campaign
Indiabulls Real estate
Not sure why this inedependence day should be happy, but nevertheless I am Happy as it'a a holiday
. Would love to go on, but this thread is not on chit-chat ;). Enjoy people!

Cheers..

PS- If possible add one more option to the poll, 'Nothing makes me feel patriotic' 😐
Happy Birthday to Indian Independence!!
61st B'day but still looking young :)
Happy Independence Day!!!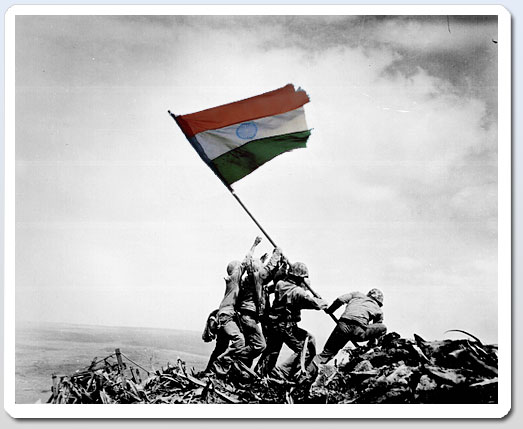 Happy Independence Day!

It is the 61st Independence year, I hope there are more medals to come and more laurels for our dear country!