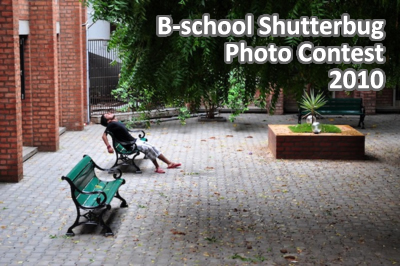 I have two pieces of good news for you all. First, that we have finalized the winners of our first B-school Shutterbug Photo Contest. Second, that the judges liked the quality of photographs so much, that we decided to extended the prizes to a total of 10 photographs instead of the initial five.
We received more than 350 photographs from more than 110 contestants before the deadline, and another two dozen thereafter (View album one and two of the entries). The overall quality of the photographs was high, which led co-judge Soumitra Ghosh (Photo Editor, Special Features at the Hindustan Times) to take an extra day to shortlist the winners.
This is what he mailed me after a first look at the photographs: "I saw the pictures yesterday and I must say that the quality of the pictures in every sense of it was just much above my expectation and thats why I am taking one more day to go through each entry more carefully before selecting the winners. Please convey my personal regards to all the participants and my sincere request to all of them to keep on shooting as they certainly have it in them!"
Besides shortlisting the winners, both him and the second co-judge Dr Pramath Raj Sinha (CEO, 9.9 Media and Founding Dean, ISB Hyderabad) also wrote feedback for each of the shortlisted photographs.
Now for the winners – hold your breaths – from some of India's most beautiful b-school campuses!
The Top 5 – Winners of Flipkart Vouchers worth Rs 2,000 each
Mudra Institute of Communications, Ahmedabad – by Abhijeet Singh
Camera: Nikon D5000
This dramatically laid back shot inside the MICA campus rightly "captures the agony and the ecstasy of student life", says Dr Pramath Sinha. "The body language and the space around says a lot," adds Soumitra Ghosh.
---
A nostalgia-evoking shot of Indian Institute of Management, Kozhikode – by Biswa Bhusan
Camera: Canon Digital IXUS 90 IS
Soumitra Ghosh: Very nice composition. This picture takes you to the back of the beyond, in your very own compound. Wish the use of Photoshop was much lesser.
Dr Pramath Sinha: Beautiful composition, the colours are like in a painting.
---
Indian Institute of Management, Calcutta – by Kunal Sharma
Camera: Nikon D3000
Soumitra Ghosh: Very good angle. The bird adds life. The picture gives a complete different look to a structure frequented by the students.
Dr Pramath Sinha: Superb timing and use of light. It conveys asymmetry in symmetry and chaos in order.
---
Another one by Kunal Sharma from the Indian Institute of Management, Calcutta, shot beautifully in low-light.
Camera: Nikon D3000
"The choice of time to shoot this building gives it a delightfully different look. It also speaks about the technical expertise of the photographer," says Soumitra Ghosh.
---
They say that the average daily sleep reduces to four hours in the rigor of b-school. This 'timely' picture was shot inside a classroom at the Indian Institute of Management, Bangalore – by Shivani Chawla
Camera: Sony Cyber Shot DSC-W90
Soumitra Ghosh: A very unusual (supposedly) moment has been captured.
Dr Pramath Sinha: Sweet. Where was the professor?
---
Ho'omaika'i 'Ana (that's congratulations in Hawaiian) to Shivani Chawla, Biswa Bhusan, Abhijeet Singh and Kunal Sharma (twice over)! We shall soon mail you your Rs 2,000 worth of Flipkart Vouchers soon.
The Next 5 – Winners of Flipkart Vouchers worth Rs 1,000 each
A shot in perspective of the hostel at the Great Lakes Institute of Management, Chennai – by Archit Shrivastava
Camera: Olympus 590UZ
Soumitra Ghosh: The hostel looks great from this angle. I wish the clothes hanging on the left-side veranda were closer to the lens. Some life somewhere would have added to the shot.
---
A spectacular shot of the 'Tower of Reflection' structure with a starry sky backdrop at the Great Lakes Institute of Management, Chennai – by Rakesh Mamdapur. Technically speaking, this was perhaps the best low-light photography entry in the entire contest.
Camera: Canon 500D
Soumitra Ghosh: Probably the best composition. Brilliant shades. Was so difficult to keep this one out of the first five!
---
Another brilliant picture of the Mudra Institute of Communications, Ahmedabad – by Ranaji Deb
Camera: Samsung M100
Soumitra Ghosh: Shot from a great angle. Well composed. Wish there was a kid on the far right.
Dr Pramath Sinha: This is pure art!
---
Some great play of shadows in this ghostly picture of a corridor at the Goa Institute of Management – by Siddarth Naik
Camera: Nikon D3000
Soumitra Ghosh: Very well composed. It takes a lot to show so many colors and so many brilliant shades. I wish there was life at the end of the corridor or even a shadow of some kind.
---
A pole showing directions at the SP Jain Institute of Management and Research, Mumbai – by Vishal Gosike
Camera: Canon EOS Rebel T1i
Soumitra Ghosh: Good observation, properly highlighted and a good sense of humour.
---
Felicidades (Spanish for congratulations) to Vishal Gosike, Ranaji Deb, Rakesh Mamdapur, Siddarth Naik and Archit Shrivastava. Each of you gets a Rs 1,000 Flipkart voucher!
And a big thank you to Dr Pramath Sinha and Soumitra Ghosh for judging the contest. Here is something Soumitra Ghosh has asked me to particularly convey to the winners: "I have no idea what else you all are going to be in life but I am confident that all of you could have been great photographers. Some of you already are! Please accept my sincere regards." Coming from a very senior and veteran photojournalist as him, it is a special compliment.
Readers, do congratulate the winners in various world languages.
View the runners-up gallery.