Be a Writer with PaGaLGuY
Words build bridges
into unexplored regions – Adolf Hitler
We can help you use the power of your words to connect with the online community.
Do you want to be called a Writer? How do you like the ring of it?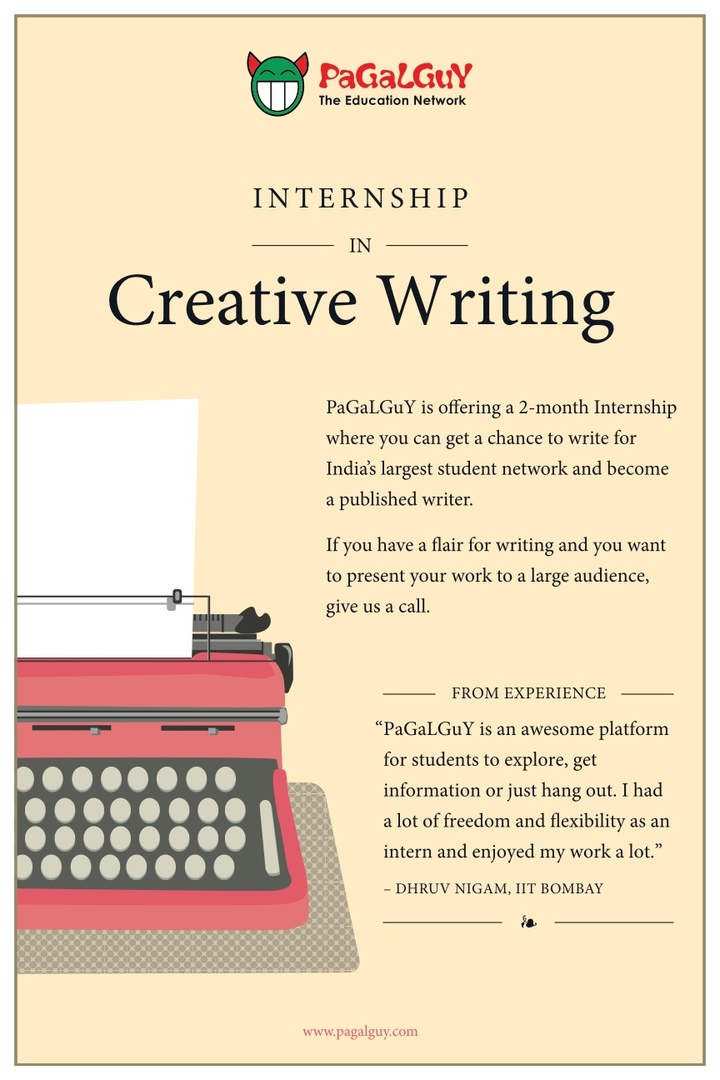 PaGaLGuY has initiated certificate programmes and internships for engineering students to enhance their English speaking skills and simultaneously earn acclaim as a published online writer. We started off in August this year with one, part time programme in Digital Media which was then expanded into two integrated programmes; Certification in Digital Media and Internship in Creative Writing. In the past 4 months, since the inception of our programmes, we have received several interns looking to put their ideas across the world. You can read some of our intern articles here.
https://www.pagalguy.com/articles/new-iits-and-brand-dilution-36541384
https://www.pagalguy.com/articles/getting-into-an-iit-the-bleak-future-for-students-37600934
https://www.pagalguy.com/articles/engineering-a-dusk-a-dawn-36212788
https://www.pagalguy.com/articles/ahmedabad-to-trivandrum-a-journey-that-made-me-grow-37876821
Being India's largest community, we encourage
our interns to expand their interactions with the engineering community and
exchange triumphs and travails of their engineering journey. Some of our
interns have now started their own blogs and are leading thought provoking
discussions in the online world.
Over the course of the 2 month programme,
students improve their English reading, writing and editing. They not only
indulge in writing articles for our website, but also perform various practical
exercises and solve case studies.
Now you
may ask me that who would read articles by a newbie, budding writer?
I have
a 2-word answer for that; Social Media.
Students are taught how to use the online medium like FB, Twitter, blogs,
Google, SEOs, etc. to increase their follower base.
Afterall, those who realise the power of the
online world, would agree;
A rumour can travel
half way through the world wide web, before the truth has the chance to log on –
A Victim of Social Media
So don't let your thoughts decay inside you. Bring
them out to the world. This is a work from home opportunity which also gives
you on-field experience.
We welcome writers into our programmes all
throughout the year.
If you are interested in pursuing our Internship Programmes, then write your email IDs in the comments section below or drop me an email on [email protected]