For the third consecutive year, SIBM Bengaluru is organizing TEDx on 8th February, 2014.For all updates keep checking the following website.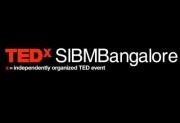 TEDxSIBMBangalore. 931 likes · 259 talking about this. About TEDx, x = independently organized event In the spirit of ideas worth spreading, TEDx is a program of local, self-organized events that bring people together to share a TED-like experience. At a TEDx event, TEDTalks video and live...
Just for FUN puys...
Tag 2 guys(from pg) whom u want to meet in real life .
Many Many Happy Returns of the Day enjoy koro  :)