---
Swapnil Dharmsktu
Like most MBA students, an average day for Swapnil Dharmsktu, a first-year student at Indian Institute of Management (IIM), Kashipur involves long lectures, tough assignments and little sleep. What makes this 23-year old girl stand apart is that as the first and only female Post Graduate Program (PGP) student at the youngest IIM in the country, Swapnil is experiencing an adventure of a lifetime.
Claiming that a complete record of her experiences could fill up a book, this confident and soft-spoken student started off by saying that she is currently occupying the largest room in the co-ed hostel. Teased with living in space enough to house four boys, her room is often invaded for committee meetings, she said. Without stopping for breath, she added that whether during committee meetings, lectures or assignments; taking a back seat was not an option for her. All the boys make sure that she never has a minute alone, "Even when I want it," she said with a laugh.
On more occasions than one, the guys forget that they have a girl in their presence and use profanities. "The expressions on their face after the realization dawns and their immediate apologies always make me laugh," Swapnil said. However, she is pampered by all seventy-eight senior and junior boys, she agreed. From taking care that she does not travel alone in three-wheelers to helping her in group assignments, the boys make sure she does not feel the absence of girls on campus too keenly, Swapnil told PaGaLGuY.
Originally from Haldwani district in Uttaranchal, a mere 72 kms from Kashipur, this B.Sc (Forestry) graduate from Pantnagar University has seen IIM Kashipur being set up from scratch. As a resident of the area and understanding the value of an IIM degree, Swapnil faced no doubts while choosing IIM Kashipur over pursuing an Agricultural Business Management (ABM) degree from National Institute of Agricultural Extension Management in Hydrabad
.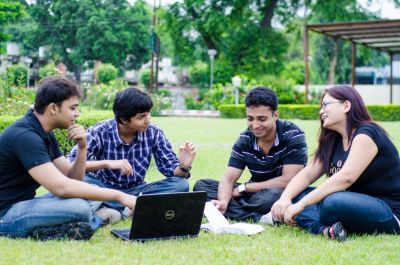 Swapnil Dharmsktu, on the extreme right
The college had been clear in communicating that she will be the only female amongst two batches at the institute. While this factor may raise some eyebrows, Swapnil's entire family was extremely enthusiastic about her becoming a part of the IIM fraternity. "Agriculture is more popular amongst the male population. Even my college had more boys than girls. I am used to handling myself around boys," she said with a confident smile.
Although she had the option of pursuing higher education in forestry, Swapnil had wanted to pursue a PGPM from IIM Kashipur since her final graduation year. An ABM degree, she feels, would have got her either a government forestry department job or a position on a research team. However, she was interested in neither. With a long term goal to establish an eco-tourism business in Uttaranchal, her immediate plans are to get absorbed in any private company that works in the area of 'forest management' . If unable to achieve this goal, an MBA would offer her a plethora of job opportunities in the marketing sector, her preferred area of specialization.
Apart from dealing with the taxing curriculum, Swapnil is also a part of the Media and Public Relations Cell (MPRC). Kapil Vaish, a second-year student and head of the MPRC said that a large part of Swapnil's job is to disseminate all doubts amongst future female aspirants applying to the institute. He added that the major anxieties communicated to the senior batch by girl students are about the location and safety issues. However, he is hopeful that Swapnil's presence in the team will help absolve these doubts to a major degree. "Although I have personally not been approached by any girl candidates so far, we have our strategies in place. I will make sure that I resolve all apprehensions voiced by girl candidates," Swapnil said.
Besides being enthusiastic about resolving the issue of diversity at the institute, the boys also enjoy Swapnil's company a lot. While second-year students mourn the absence of girls in their batch, first-years make sure that they involve her in as many activities as possible. "Everyone wants her in their group for class assignment. She helps introduce a unique viewpoint," Vivek Goyal, a first-year student said.
Girl-talk is the only aspect Swapnil misses. However, after four months in the institute, the lively conversationalist has made sure that the closest of her friends engage in a little gossip.
However, amidst the busy routine of the day, Swapnil does not get affected by the lack of female company. Being a part of the co-ed hostel assures that she is never at a loss for company or help. "Once I had run out of medication and woke up half the hostel for help. All of them remained anxious till the time I got appropriate medication," she said. Although increasing the number of female students in IIM Kashipur remains a major issue, it is not the sole focus of her existence at the institute. "My aim is to make the best use of this opportunity. I have a goal in mind and I will be successful," she concluded.
Ek baar jo maine commitment kar di... 8)