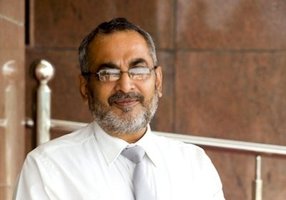 Dr Gautam Sinha, due to take over as director of IIM KashipurThe Indian Institute of Management (IIM) at Kashipur, which had started out in 2011, finally has its first director in Dr Gautam Sinha. In the first interview with a media after being named for the position, the director-appointee explains his plans for one of the remotest located IIMs. Dr Sinha currently heads the New Delhi-based Lal Bahadur Shashtri Institute of Management, besides being a professor at the Vinod Gupta School of Management, Indian Institute of Technology, Kharagpur.
---------
When are you joining work at IIM Kashipur? The last director selected for the school had backed out citing lack of medical facilities as the reason. What made you accept the job?
I would be joining around May 15, 2012. I will go back to IIT Kharagpur first, join and then probably be on deputation. I think it is both a challenge and opportunity. The poorest Rothschild is still a Rothschild. The newest IIM in the remotest of places is still an IIM. So, that is the main reason why I have taken up this job.
Personally, are you concerned about the relatively secluded nature of Kashipur and the believed lack of medical facilities? How has your family reacted to your move to Kashipur?
I really dont know about the actual facilities. It seems to be a flourishing town. I will have to see and then decide how to improve it for our students, for our faculty, staff and their families? My family means me and my wife. Both of us have fairly good health.
Do you think that the said lack of medical facilities will continue to make senior and experienced faculty avoid IIM Kashipur? Will IIM Kashipur have to make do with younger people in faculty positions?
There must be lot of adventurous souls in India, I am sure. Also, there is a positive side. When you join a new organisation, your growth is faster, you learn much more, you do and learn which otherwise you may not have done. So there will be some people who I guess would like to take up this challenge with enthusiasm. Possibly, there will be a mix of both experienced and young faculty members.
Every IIM starting up afresh takes youngsters. Every old IIM too take in youngsters every year. What is wrong with youngsters? At the moment there are only two faculty members in Kashipur. The rest are all on loan from IIM Lucknow. So I look forward to a little more support from IIM Lucknow till a reasonable number of faculty is recruited.
I have already drafted a plan. The faculty strength that I need for the 2012-2013 session would be around 12, moving through 18 next year and in five years time the number should go up to 40. At 12, we would have a very favourable faculty-student ratio of 1:8 with our current batch size of 38. The second batch should be 60 students-strong. Both the IITs and IIMs look for a faculty-student ratio of 1:15. At IIM Kashipur, the ratio should stabilise at 1:10 or 1:12. The All India council for Technical Education (AICTE) also demands a ratio of 1:15. So we would be happy to have any figure better than that. Initially, we need a minimum number of faculties and that is irrespective of the number of students we have, which is 12. I know at least eight of the current directors at the IIMs so there would be lot of Fellow Programme in Management (FPM) candidates who have finished their programmes. I know several of them whom I can approach.
After the first director-appointee backed out, the government had relaxed the qualifications required for the IIM Kashipur director. Are you concerned that you may have to relax the criteria to hire faculty too?
I think that you are laying too much stress on the fact that the first director backed out. It is just an incident. What was relaxed with the criteria? I have a PhD. I have done research guidance for five PhDs in eight years. I have been interviewed as a candidate for IIM directorship thrice. I have gone for IIM Kozhikode and I was there for IIM Ranchi. So, where is the relaxation?
No, there would not be any relaxation for any new faculty in terms of criteria. Of course there could be some perks offered but as of now, it is not decided. I am sure there will be a lot of people who would like to start their careers at an IIM and a new one at that, where they would have the freedom of designing the curriculum, teaching and learning at the same time. It is a challenge.
My criteria for choosing the faculty would be that the applicant has to be a PhD holder with good quality publications and good communication skills. A good pool of prospective faculty may come from FPMs at the IIMs.
Over the last year, five new IIMs have come up. What do you think about their future?
The percentile scores of the CAT are such that if I counted down from the topmost percentile and stopped at a certain mark, there will at least be 500 students with the same marks. Suppose, I chose 99.2 percentile as the cut-off then at 99.2 percentile, I am sure there will be at least 1,000 students and just at one percentile below this, there will be 3,000 students. It is a pyramid. So, obviously you also consider some other criteria. Either decide alphabetically or take into consideration the academic records including class X marks and class XII marks, but you do not take everyone at 99.2 percentile into the school. What about the people who are not taken? Is there anything wrong with them?
Recently, Chinas prime minister visited India. He looked at the IITs and he said that he was going to build a 100 IITs in China. With a population of over a 100 billion, we in India want more IITs and IIMs. Why should it dilute a brand?
IIM Ahmedabad started from an outhouse given by Dr Vikram Sarabhai. That was 50 years ago. From that perspective, an institute takes time to build. And every institute starts with a makeshift faculty, minimal facilities, young and inexperienced faculty, remote location and few students. IIT Kharagpur started in a building in Calcutta 60 years ago. Today it is spread over 2,200 acres. You cannot build educational institutions in a day. I would say that increasing the number of IITs and IIMs is a good strategy. Why should it remain exclusive? The University of Southern California has seven campuses but it is one university. What is wrong with 13 IIMs in India? The expansion strategy has to be well mapped out.
In terms of students, who can certify that coming down from 99.2 percentile to 99.1 percentile makes the candidate not capable? Yes, there is a difference between a student at 99 percentile and one at 93 percentile. But in it real life, does it really make that much of a difference? Of course, it matters between a student with 99 percentile and one with 55 percentile. If you ask me, I have been an executive half of my life. Some of the best executives I know come from very obscure colleges and some of the people who had come from the IITs were not successful. So life is a hard taskmaster. Your institute gives you the entry and a slight advantage but after that what you deliver matters. Who cares if you are from IIM Kashipur or Kozhikode once you start delivering? I am sure it doesnt matter.
How do you plan to position IIM Kashipur in contrast to other IIMs?
It is not only me who would decide this. The vision is to be crafted by the chairman, the Board of Governors and the stakeholders that is the faculty members. We have to think of some form of disctinctiveness which the marketing people call a Unique Selling Proposition but it has to be a consensual decision.
What is this assignment going to be like for you as an academic professional?
I have been an executive earlier so my experience of project management would come handy. I have been an academic administrator and I have started a MBA program at IIT Kharagpur, so I understand curriculum design. I have been a teacher, I definitely teach one subject to remain in touch. I would retire again as a teacher as after this tenure also I shall go back and join as a teacher at IIT Kharagpur. Also, by virtue of being the director here, I have understood how b-schools are supposed to run. So, whatever armoury is required will be taken out at that time.
First and foremost, students come through the CAT. The faculty will be key to making a difference to the kind of education IIM Kashipur will deliver. The most important thing in any b-school across the world is faculty. I would like to choose my faculty with care. My first challenge will be to place the first batch really well so that they can make a difference. Once it is proved that the batch of Kashipur is good and that they are distinctly different from others in a positive sense, I am sure the word of mouth is going to spread.
The first batch has already gone for the summer internships. Atleast 38 people are now working in the industry. So, looking it at objectively, some of these students will get some kind of a response from the industry in terms of pre-placement offers. We would try to increase the ambit of the industries.
What role would you expect from the mentor-institute IIM Lucknow?
The hand-holding has to be there as of now which can gradually taper off in the next two to three years time.
Do you intend to increase the batch strength in the coming year? The first IIM Kashipur batch did not have a single girl student in it, despite admission offers having being made to some. Some of them in fact chose to join IIM Udaipur or top non-IIM schools located in metros over IIM Kashipur. What would you do to make the institute seem more attractive to women?
I would like to have at least one-third of a batch as girls. This year, I really do not know the situation as I am not part of that process till I join them. There has to be a good arrangement for girl students in terms of security. I have not seen the ground reality yet so I would not like to make a comment at this stage.
In regards to other diversity and the ratio of engineers to non-engineers in the classroom, there is already a diversity factor in-built in the admission process of IIM Kashipur. But let us be very objective about it. Anybody who is good in school naturally gravitates towards science. So, 80% students who are good opt for science and then 80% of them go for engineering. So that is a reflection of what is happening in the society.
Would IIM Kashipur's connectivity be a hindrance for corporates to visit it? What do you plan to do to remove this hindrance?
I dont think it is worth a discussion at all. The government in its wisdom opened an IIM in Kashipur. I dont think it would be problem in any case. Today, what is distance? The first thing is leveraging IT. Why do you need to go somewhere when you can do video-conferences?
What sources of income do you plan to put in place at IIM Kashipur and roughly by when would the institute become financially independent?
I have done some calculations on the basis of available information in the public domain. Based on that, I think that no b-school can become cash-positive on operations before three years. Probably, we would be cash-positive by fourth year, thats when we would be making an operating profit and start creating capital.
The routes are very standard. We will have Management Development Programs (MDPs), Executive Development Program (EDPs) possibly at the institute or at the client site, some funded research and consultancy.
And of course, the PGP tuition fee is a revenue stream. Raising fees is a function of two things, either increasing costs and brand value. That has to be decided as and when the time comes.
Where would IIM Kashipur be in the next five years?
I want to see IIM Kashipur, hopefully, among the top 10 management schools in India. I would have a great satisfaction of starting an institute and see it in the top-10 list within a period of five years. If I see it in the top 20, it would still be good. However, I would be targeting to be among the top-10 schools. Lets see where we can go. Let action be louder than words.