Here we are, nearing the end of an MBA admission season hanging right in the middle of the second economic recession in five years. The crisis of 2009 assailed at the viability of the mass-produced MBAs of the country to secure the jobs they had hoped their degrees to yield, but it did not shake the collective resolves of India's educational entrepreneurs much to open more business schools.

Three years later, we are now facing another job crisis in the midst of a slowing national growth rate, and both prospective MBA applicants and b-schools are showing signs of giving up. A lower number of people appeared for the Common Admissions Test (CAT) in 2011 that they did in 2010, while b-schools have begun shutting down, something PaGaLGuY had predicted back in June, 2010.

In small towns, MBA entrance coaching centers are folding up operations to instead deliver training in public service commission, bank probationary officer or administrative services exams to the same type of applicant who four years ago would most probably have joined a b-school that is considering closing down today.

How has this affected the preferences of b-schools among Indians?

Between January and March 2012, we polled 8,093 respondents using our CommunityRank methodology to find out how they perceived India's b-schools. The PaGaLGuY B-school Rankings 2012 results are live now. You can view the rankings by following the links below,
~ PaGaLGuY B-school Rankings 2012 ~
Before you read and interpret the rankings, here's something you need to keep in mind: this is a ranking of India's Most Preferred B-schools. NOT OF THE BEST B-SCHOOLS. The objective of this rankings is to find out how Indians actually make their b-school decisions, despite all arguments in favour of or against a school's vital statistics. There are several rankings in the mainstream media that try to find out the 'Best B-schools' and we encourage readers to form their decisions based on a composite study of all rankings (apart from, obviously, their own research) with the knowledge of their methodology, and not obsess too much over just one.

This year's rankings show a clear preference for b-schools with established brand names, perhaps signifying that prospective applicants are not too keen on taking risks with their choice of b-schools in light of a dull job market. For the first time, our Top 12 list is comprised entirely of government-owned business schools, with the exception of XLRI Jamshedpur and ISB Hyderabad, both of which have lost a rank each compared to last year's rankings.


PaGaLGuY B-school Rankings 2012: The Top 10



The Indian Institute of Management (IIM), Ahmedabad continues to be ranked 1 this year, as it has been in every PaGaLGuY B-school Ranking since 2008. But for the second year in a row, IIM Calcutta has been ranked at second position, breaking the commonly-believed preference sequence of 'ABC' and making 'ACB' the new order of coveting among the top IIMs.

The Indian Institute of Foreign Trade, Delhi which was ranked 12 last year has dislodged Mumbai's SP Jain Institute of Management and Research from the Top 10 to occupy the 10th rank and be the only new entrant in this year's Top 10.

Ahmedabad's Mudra Institute of Communications, Pune's Symbiosis Institute of Media and Communication and Delhi's Sri Ram College of Commerce (for its Global Business Operations diploma offering) were clearly preferred by women the most, though IIM Kozhikode despite its proactive efforts in recruiting more women students was in fact ranked two places lower in the women rankings compared to the overall rankings. If one had to speculate why women voted so for IIM Kozhikode, the most plausible reason could be a natural aversion to the location overshadowing the knowledge of IIM Kozhikode's women-friendliness. Or it could just be lack of awareness, because in actual terms, the IIM has constantly been improving its representation of women in class.

The women's rankings are based on responses by 1,149 women.


PaGaLGuY B-school Rankings 2012: B-schools with a clear preference among women



In the women's rankings, the preference for certain schools can be clearly seen from the fact that those schools had been ranked higher by as many as two places or more compared to their overall rankings by women respondents. However, respondents with work experience did not show that strong a preference for any b-school. The usual suspects (b-schools that have shown an inclination towards experienced candidates in recent times) such as IIM Bangalore, Indian School of Business - Hyderabad and Great Lakes Institute of Management - Chennai were ranked higher in the Work-ex Rankings than in the overall rankings. Those with work experience preferred IIM Bangalore over IIM Calcutta, though IIM Ahmedabad remained their top choice.

Among the respondents, 4,874 had work experience.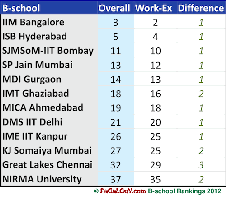 PaGaLGuY B-school Rankings 2012: B-schools that people with Work-experience showed a clear preference for



The PaGaLGuY B-school Rankings 2012 also show how people perceived the new crop of IIMs started in the last decade. The new IIMs at Shillong and Trichy were the only two that made it to the Top 30, while IIM Kashipur was ranked rather low for an IIM at 72. This is perhaps a reaction to the Uttaranchal-based IIM's comparatively slower growth, the lack of a proper administration (one year down, the school still does not have a director heading it) and its location.

None of the new IIMs have gathered any particular interest among women or those with work experience. Women, in fact, ranked five of the seven new IIMs below their overall ranking while those with work experience ranked Shillong, Trichy, Raipur and Kashipur below their overall places.

PaGaLGuY B-school Rankings 2012: The Top 10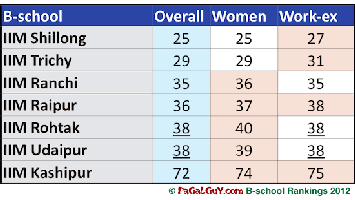 PaGaLGuY B-school Rankings 2012: How the new IIMs fared



It is significant to note how rapidly the Shailesh J Mehta School of Management, Indian Institute of Technology - Bombay has built credibility over the years to be ranked at the 11th spot in the PaGaLGuY Rankings of India's most preferred b-schools. The school was ranked at number 20 in 2009.

The IIT b-schools are a clear favourite among those with work experience, considering that five out of six were ranked equal or higher to their overall rankings. But except for IIT Madras, women seemed more or less indifferent to the idea of studying at IIT b-schools.



PaGaLGuY B-school Rankings 2012: How the IIT b-schools fared



Spot any other trends in the rankings that we missed out? We welcome you to discuss them in the comments.

Guideline for commenting: You are welcome to give your feedback on the rankings. But please do not expect us to respond to comments in which the poster has NOT made the effort to read the methodology. If you cannot make the courtesy of figuring out how we do this ranking, we do not owe you any acknowledgment for your opinion.