Queen's Mary Technical Institute at Pune

An injury in a road accident during Operation Rakshak in Kupwada district of Jammu and Kashmir in 2001 stole away Veeresh M's chance of living a normal life. Veeresh from Koppal in Karnataka was 22 then. Veeresh's, spleen had to be removed after the accident and leading a normal life for him was then a slim chance. But he did.

Today, 12 years later, he alongwith 23 other batchmates (who share similar stories), are pursuing a one-year diploma course in management from Department of Management Sciences, University of Pune (PUMBA), specially created for differently-abled jawans to give them hope of a better life.

PUMBA has been conducting the Diploma in Industrial Administration and Services Management (DIASM), in association with Queen's Mary Technical Institute (QMTI), Pune, free of cost since 2008. QMTI is the only institute of its kind in the country which provides training to in-service and ex-service personnel disabled in war or in-service as well as their dependents for their respectable rehabilitation. They offer a number of training programs in the field of computers, English, soft skills etc to differently-abled soldiers.

With every passing year, this program has been gaining popularity among soldiers. The program which started with only 7 soldiers in 2008 has seen more than a threefold increase in the number of participants enrolled for the ongoing batch which started in August. Dr. (Capt) C. M Chitale, head, PUMBA spoke to PaGaLGuY about the program. "The idea of a management program for these differently-abled soldiers evolved from a discussion about the future plans for QMTI. We thought of creating a program which will help them get a job in the industry when they leave the armed forces. So, we asked students to do a survey and see whether companies are willing to absorb trained soldiers. The response was positive which helped us move ahead with the program," said Dr. Chitale.

The program is taught across four semesters with last semester comprising of a specialisation in the field of marketing or finance, internship and a project. Through the course, they are taught 24 subjects such as Financial Management, Human Resource Management, Business Law, Macroeconomics, Managerial Accounting to name a few. After the course, these students are absorbed in companies for a year-long training where they are paid an honorarium in addition to the salary received by the armed forces. After the year-long on-job training, these soldiers are given suitable roles in the armed forces depending on their disability.

PaGaLGuY visited QMTI to meet these unique management students. Coming across as eager participants in the meeting, these students share their experiences as management students. Veeresh says, "I enrolled for this program as I thought it will help me in the future. I have a convent school back home which I want to take care of. The knowledge of financial management, recruitment and other management practices will be useful when I run the school back home in my district."

Another student Pawan Mehta, 33, from Una district in Himachal Pradesh who injured himself during a white water rafting course in 2009 in Nagaland shares, "This program has made a huge difference to my thinking. As soldiers, we were used to taking orders and not have an independent thought process. This course has helped me think independently. Also, I come from a Hindi-medium school and I thought English was not my cup of tea. This program is helping me learn English and has taught me that if you struggle, you can achieve anything."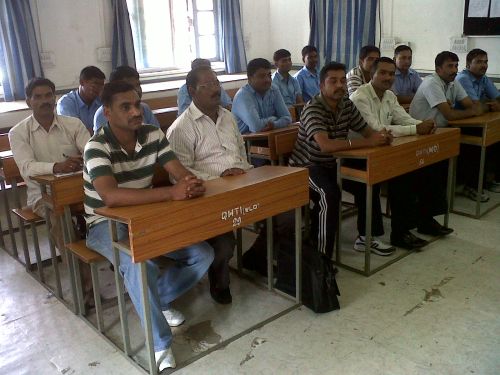 Soldiers at their classroom in QMTI


Students who complete the course generally prefer to stay back in the armed forces till they finish their 15 years of service, which is the required minimum number of years to avail of all the benefits offered by the armed forces. The on-job training after the completion of the course gives them a stipend of around Rs 8,000-10,000 per month depending on the place of work. After serving for the required number of years in the forces, these soldiers then either take up a job or start a business.

Amaresh B, 30, who hails from Mysore, Karnataka, has similar plans. Having completed the course two years ago, Amaresh is working with Tata Business Support Services Ltd for BPO in security and office administration. Amaresh had a kidney transplant after both his kidneys had been damaged while he was posted during Operation Parakram in Rajasthan in 2002. He talks about the program, "It is very difficult for an army person to get back in the civilian mode of life. This course has helped me achieve that and given me a lot of confidence."

Another student, Arvind Kumar, 31, completed his course last year. He is suffering from a lower back problem since 2004 when he was posted in Punjab near Amritsar. He has not opted for a job yet and is pursuing one more course from QMTI. He said, "I prefer to call myself multi-abled rather than disabled or differently-abled. This course has helped a lot in my personal development. I want to become an entrepreneur, preferably in the construction line." Amaresh wants to continue working in the corporate life after he retires from the army or take up a state government job under the quota allocated for the armed forces.
Arvind Kumar and Amaresh B (From left to right)
One of the success stories of this program is B K Jadhav, who studied in the 2009 batch. Jadhav had his right arm amputated due to a battle field casualty during Operation Rakshak in 1997 in Jammu and Kashmir. He has retired from the army and currently teaching at a college in Sangli. A man who wants to learn all the time, he has completed his BA (English), MA (Political Science) and cleared his UGC NET. He is now preparing to pursue his PhD and wants to study the role of women in local self-government. "I pursued the diploma course because I wanted to be more aware about things. When I used to look at faculty from PUMBA, I also felt like studying more and getting into teaching," says Jadhav.

Yet another success, P Thamizh Selvan, a last batch student won a b-school business plan competition at the university level. "My plan was related to generating electricity using wind energy. My plan came first among 143 entries," he beams proudly. The current batch of students are also highly inspired by his performance. "Earlier, we used to be nervous when we went to PUMBA for events and saw students in blazers. After the success of P Thamizh Selvan, they take QMTI students a lot more seriously and we are also more confident about our abilities," quips one jawan.

Perhaps the only loophole in the current system is that the soldiers have to stay back to complete the required number of years in the army before venturing out on their own. This results in a considerable amount of gap after the completion of the course which can be drawback to the soldiers after they hang their boots. Both Amaresh and Arvind agree that this is a disadvantage. Arvind says, "There is obviously a long gap but it is a part of our service. I believe if we have our goals clear in our minds, it is not that difficult."

But Amaresh does not mind it. "We soldiers do face a tough situation in that sense but knowledge once gained is not forgotten. Plus when we come back to pursue jobs such as canteen or mess management, we employ principles learned in the course. So, we also get a lot of practical training in the army. Also, corporates do employ a lot of ex-servicemen straight after service in the armed forces. In our case atleast, we have experience plus knowledge gained from a course."

Dr. Chitale told PaGaLGuY that the day when they started the program was a solar eclipse. However, for these soldiers, this program is nothing short of breaking dawn.