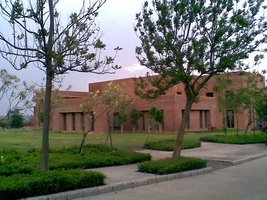 The IMT Nagpur campus (Photo: Siddhartha Garg)
Last year, Institute of Management Technology (IMT), Ghaziabad had tried to pump in some technological innovation into its admissions process by allowing candidates to send video-recorded answers to interview questions. But considering
the execution problems
it experienced with the 'Vmock' software, it has decided to drop the 'virtual interviews' for the ongoing admissions and revert to the old-fashioned way of interviewing across various cities.
IMT's admissions chairperson Dr AM Sherry also pointed out that the larger cohort that IMT has to interview this year in light of increased intakes across all of IMT's campuses was also a reason to stay away from using virtual interviews. IMT's Hyderabad campus intake has risen from 120 to 240 this year. In addition to that, the number of seats in the dual-campus program between IMT Ghaziabad and IMT Dubai has been increased from 120 to 180, thus bringing the total count of seats on the Ghaziabad campus to 600. According to Sherry, it would have been difficult to execute virtual interviews for such a large interview cohort.
IMT Nagpur and Hyderabad campuses' considering the Common Management Admissions Test (CMAT) for admissions has further thrown the interview timelines of IMT's campuses out-of-sync with each other in order for virtual interviews to be employed conveniently.
Group discussions and interviews for the Ghaziabad campus have already concluded on February 29 while those for Nagpur and Hyderabad will begin soon now that the
CMAT results
have been declared.
In the virtual interview system used by IMT during last years admission process, the candidate was required to record answers to a given list of questions into a webcam at their homes, offices or cyber-cafes and upload the video-answers onto the Vmock website. IMT had intended the system to save its professors from travelling the country to conduct interviews and also not have candidates spend money on travelling to interview centers. But as the process started last year, candidates from across the country began complaining of glitches in the recording and uploading process, leading the institute to abandon the virtual interviews halfway and fall back on face-to-face interviews.
Although the Vmock system has been suspended from the admissions process for this year, IMT is still contemplating the idea of using virtual interviews for other processes such as placements. Sherry said that the institute may talk to recruiters about the possibility of conducting job interviews over Vmock.
However, students at IMT Ghaziabad expressed apprehensions about using Vmock for the placement process, especially because of last year's glitches. "The institute had encouraged us to use Vmock for recording practice interviews in the run-up to the final placements. Some of us tried using the system but did not find it helpful," an IMT Ghaziabad student told PaGaLGuY on the condition on anonymity. He added that if the system had faced glitches during the admissions process, it could face the same problems during placements too.
Vmock did not reply to PaGaLGuY's email seeking to know their stand on the matter.