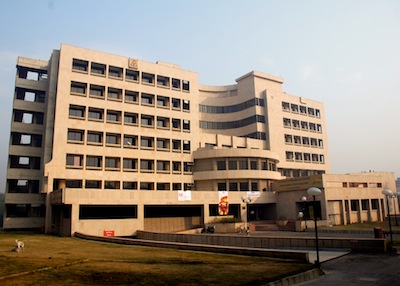 Department of Management Studies ((DMS), IIT, Delhi
In a major policy change, the Department of Management Studies (DMS), Indian Institute of Technology (IIT), Delhi is mulling opening its doors to non-engineering background candidates from the next academic session onwards.
Currently, the IIT admission process requires candidates to have a four-year graduation degree post completing their secondary school education. This automatically disqualifies students pursuing their BCom or BA degrees from applying to the IIT's. DMS is trying to figure out a way to include this pool of students in its admission process as well, Prof MP Gupta, admission co-ordinator of DMS, IIT Delhi told PaGaLGuY.
The administrative committee at the institute has already drafted the proposed changes that would help the institute achieve this aim. "While the changes will be subject to several layers of discussions and approvals, the process has already started," Prof Gupta said. He added that the institute is hoping for some concrete action in the matter within the next six months.
DMS is also planning to revamp its course curriculum within the next three months. As coordinator of the Course Restructuring Committee at the institute, Prof Gupta said the new curriculum will be created after detailed discussions with faculty members of b-schools abroad, the institute's alumni base as well as prominent people from the corporate world.
Currently DMS offers management courses under three main focus areas namely General management, Technological management and Telecom sector management. The institute is looking to introduce other focus areas including Healthcare management, Real estate management, Media management, Entrepreneurship and so on.
In addition, the institute is planning to introduce elective subjects that would deal with management models adopted in Europe, Asia, United States and even Japan over the past three decades. According to Prof Gupta, studying these electives will help students understand contemporary management in a better manner.
However, these additions will not affect the final transcripts that will be given to the students at the end of their academic session. "While the final transcripts will include details about electives and focus area, all candidates will get a generic degree," Prof Gupta clarified.
While ideally every management institute should revamp its course every five years, the DMS curriculum was last reviewed and revised almost ten years ago. "Even the undergraduate program is looking towards major course revamping. Our administrative members have been involved in that process, which is one of the reasons we have not been able to focus on the DMS curriculum upgradation," Prof Gupta said.
In addition, the change in curriculum will also attract non-engineering background candidates to the institute. "If we offer Healthcare management, our admission pool would ideally include more doctors who are interested in making it their focus area. This would automatically increase diversity in the classroom," said Prof Gupta.