.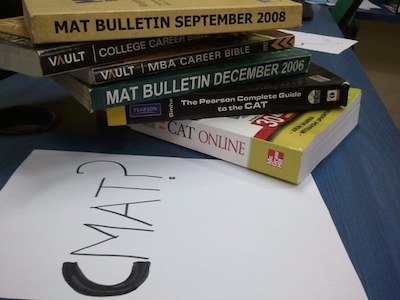 The All India Council for Technical Education (AICTE) has announced the dates for the second chapter of Common Managament Admission Test (CMAT). While the test will be conducted from September 27, 2012 to October 1, 2012, the registrations for the same will begin from August 3, 2012. "We have crunched the total number of days over which the exam will be conducted. However, we have increased the number of exam centres to 64 in order to balance this crunch," SS Mantha, Chairman, AICTE told PaGaLGuY.
However, the total number of days over which the test will be conducted is also dependant on the total number of applicants who apply for the exam, Mantha said. If the total number of applications exceed the available slots, AICTE will increase the number of test days.
The Chairman added that from now onwards CMAT will be conducted twice every year. Students will be allowed to appear for the test twice, once during the August-September version and second during the January-February version of the test, if they so feel the need. In case students are appearing for the test twice, the best scores will be considered by the respective colleges for admissions. According to the chairman, this step is being taken to provide students with the opportunity of improving their scores so that they are able to get admission into the institute of their choice.
According to the notification issued by AICTE, the last date for registration for the exam is September 2, 2012. In addition, the hall tickets will be made available by September 15, 2012. Also, the final results are scheduled to be declared by October 17, 2012, the final scorecards will be released by October 17, 2012 and will be made available for printing till November 17, 2012.
Candidates will have to provide three centres of their choice. Last year, there were poblems with regards to centre allocation. However, according to the AICTE notification, the students will be allocated centres on the basis of first come first serve.In addition, actual allotment will be on the basis of actual slots in the centres in the city.
CMAT is a 180-minute test, which has four sections namely Quantitative Techniques and Data Interpretation, Logical Reasoning, Language Comprehension and General Awareness. There will be a total of 100 questions, with 25 questions in each section. While there had been few incidents of mishappenings and technical snags in the first chapter of the CMAT, the council is confident that even the second session will be conducted without much of a problem