hi frnds
actually i wanna know abt the cut off marks for tcs written aptitude test. what is it exactly. thanks
Hello All I got to know that TCS has a cut off percentage in academics for experienced people. Can anyone let me know how much it is and how strict are they in this cut-off. Is it possible for people with less percentage but much experience to by-pass this cut-off?RegardsSri

There are so many factors involved. Is it off-campus? On Campus? If on-campus, which university/college?
I am saying that in general and not specifically for TCS. Companies do have different cut-offs for different universities. For off-campus, the cut-off is consistent.
Access Multiple B-Schools and 50 + MBA/PGDM Programs
Choose your preferences to Apply
- Duration
- Place
- Fees
- Faculty, Placements etc.
Enroll Now for your MBA 2014-16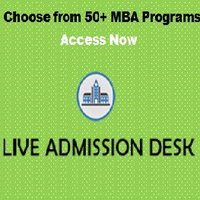 Yeah this is a very interesting thing most Indian companies follow.If your score is above a certain predefined mark,even then you are expelled.But then they have not mentioned it anywhere so this thing requires authentication.:

The cut-off was a mere 50% when it visited my campus,but i think that varies depending on the workforce needed.Due to the kind of mass recruitment mode TCS has adopted,cut off could go even lesser.
Regards.